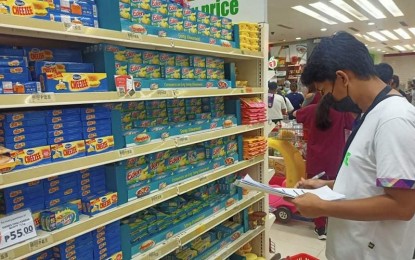 MANILA – The Department of Trade and Industry (DTI) has approved the increase in prices of 195 out of 223 stock keeping units (SKUs), including Noche Buena staples such as ham and quezo de bola.
The agency is expected to release the price guide for Noche Buena products on Nov. 23 which also include fruit cocktail, cheese, sandwich spread, mayonnaise, spaghetti pasta, elbow macaroni, salad macaroni, spaghetti sauce, tomato sauce and cream or all-purpose cream.
About 94 SKUs have increased their prices by more than 10 percent, 51 items had increments between 6 to 10 percent, and 50 products hiked prices by 1 to 5 percent, according to the DTI.
For ham products, some items decreased their prices by PHP30 while other brands increased up to PHP42. Suggested retail prices (SRP) for Christmas ham ranges from PHP168 to PHP892.50 from last year's SRP of PHP158 to PHP862.50.
For fruit cocktail, price hike ranges from PHP0.50 to PHP33.05 with SRP of PHP56 to PHP33.05; cheese price hike ranges from PHP3 to PHP21, with SRP of PHP54.35 to PHP371; quezo de bola prices increased between PHP10 to PHP56.65; mayonnaise, increasing by PHP0.60 to PHP23.45, with SRP of PHP24 to PHP234.15; sandwich spread, increasing by PHP1.05 to PHP13.16, with SRP of PHP26 to PHP252; and cream, increasing by PHP3 to PHP16, with SRP of PHP63 to PHP75.
Prices of spaghetti pasta also increased by PHP4.50 to PHP27, with current SRP of PHP25 to PHP111; elbow macaroni and salad macaroni prices both increased by PHP4 to PHP27.75, with SRP of PHP23 to PHP119 and PHP39 to PHP117, respectively; spaghetti sauce prices increased by PHP1.55 to PHP14.93, with SRP of PHP23.55 to PHP95.50; and tomato sauce prices increased by PHP1.20 to PHP18.50, with SRP of PHP17.25 to PHP92.25.
Eight items on the Noche Buena list maintained their 2021 prices.
DTI Assistant Secretary Ann Claire Cabochan said there are 18 newly added SKUs for Noche Buena products this year. (PNA)