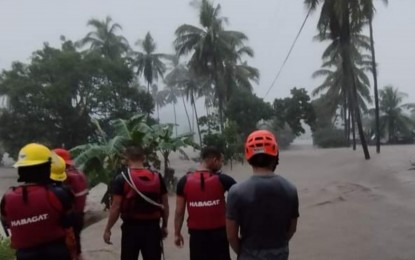 MANILA – President Ferdinand R. Marcos Jr. on Tuesday called on Philippine disaster officials to study the "best practices" of the United States Federal Emergency Management Agency (FEMA) as part of efforts to make the government more responsive to people's needs in the immediate aftermath of disasters.
FEMA, an agency under the Department of Homeland Security, primarily coordinates the response to a disaster that has occurred in the US.
Marcos said using FEMA as a model would help prevent red tape and other delays in government disaster responses in the Philippines.
"So that kind of authority…basta't pag (as long as there is a) disaster, within a day or two, hopefully within a day, pasok na sila (they're there) and they'll see what's going on and then report back to us and start with the assessment," Marcos said in a meeting with disaster officials at Malacañan Palace.
"And pagka they assess (After they assess) on the ground, they can already start calling the other agencies...'Yun lang habol ko eh. 'Yung mabilis, para mas mabilis (That's what I'm after. We need it done quickly)," he added.
Rather than going through a tedious bureaucratic process, Marcos said he wanted disaster agencies to have the power to facilitate the immediate release of government funds after immediate assessment and release of a report.
"And then, they will come up with report, sasabihin DSWD [Department of Social Welfare and Development] 'we need this'… and then they will have the power…Under the OP [Office of the President], will give them the authority," he said.
He likewise underscored the need for repair and reconstruction to start immediately after damages are identified.
"I'm just trying to parang madaliin kasi 'pag (speed things up because if) you are in that condition sa LGU lahat urgent kasi 'yung tao walang matitirahan, walang makain (in the local government unit is should be urgent because people have nowhere to stay, nothing to eat)," he said.
On Nov. 8, Marcos broached placing the National Disaster Risk Reduction and Management Council (NDRRMC) under the OP to improve the country's disaster response by cutting bureaucratic red tape.
He also expressed support for the plan of his elder sister, Senator Imee Marcos, to upgrade NDRRMC, with enhanced powers under the OP and a more significant budget, rather than creating a new department.
It was the older Marcos who said that the new NDRRMC should be patterned after FEMA, whose primary purpose is disaster preparedness and response.
The NDRRMC is the highest organized and authorized body for the country's disaster risk reduction and management.
Established by virtue of Republic Act 10121 in 2010, the NDRRMC is composed of representatives from various government, non-government, civil sector and private sector organizations. (PNA)