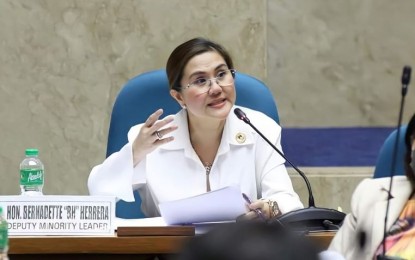 MANILA – A party-list lawmaker on Wednesday urged those against the passage of the gender equality bill, as well as measures on divorce and annulment, to approach the issues with calm and compassion that is consistent with the constitutional principles of equality, equity and due process of law.
In making the call, Bagong Henerasyon Rep. Bernadette Herrera said imposing the religious beliefs of any church, faith or religious group on others who are not members or followers of such beliefs is patent discrimination and contrary to basic human rights.
"I am therefore asking those vehemently opposed to equity and equality for the LGBTQ+ and LGBTQI (lesbian, gay, bisexual, transgender, queer and intersex) community and against SOGIE (Sexual Orientation and Gender Identity Expression Equality) rights to approach the issue of same-sex marriage, LGBTQ+ rights, divorce, and annulment with calm, sobriety and compassion for other people who deserve to have the same rights they enjoy because we are all equal as people under our Constitution," Herrera said in a statement.
The Deputy Minority Leader said "same-sex partnership" options presented in Congress do not seek to dilute nor diminish marriages solemnized in Catholic and other religious rites.
Among them is Herrera's House Bill 1015 that seeks to institutionalize civil partnership for same-sex couples, with the goal of giving them the same rights that married "straight couples" enjoy under the country's laws.
"Take note, civil partnership po ang isinusulong namin sa Kongreso, hindi (is what we are pushing in Congress, not) same-sex marriage, hindi (not) union," she said.
In pushing for the measure, the lawmaker said any person in the Philippines can enter into a partnership agreement as provided under the Civil Code of the Philippines.
"Lahat tayo'y may karapatang piliin ang taong nais nating makasama't alagaan bilang civil partners. Hindi ito usapin ng relihiyon, kundi isyu ito ng karapatang pantao (All of us has the right to choose the person we wanted to be with and take care of as civil partners. This is not an issue of religion, but a human rights issue)," she said.
"Civil partnerships are the alternatives presented in bills filed so that spousal rights are accorded or conferred consistent with the constitutional principles of equality, equity, and due process of law through civil marriage or its various forms," Herrera said.
Herrera also said House and Senate bills on divorce and annulment are also based on the same constitutional principles.
"Neither do the bills in the House and Senate on divorce and annulment seek to impose religious beliefs on people who do not practice or believe in those beliefs. Canceling them out because of religious beliefs are not consistent with our Constitution and laws," she said. (PNA)