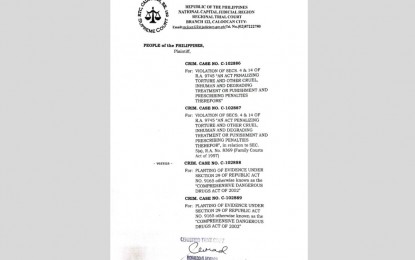 MANILA – A Caloocan City regional trial court found two policemen guilty of torturing two teenage boys and planting drugs and a gun as evidence five years ago.
In its 36-page decision dated November 10, Regional Trial Court Branch 122 Judge Rodrigo Pascua Jr. said Police Officer 1 (PO1) Jefrey Perez and PO1 Ricky Arquilita were guilty of violating Republic Act No. 9745 for torturing Carl Angelo Arnaiz, 19, and Reynaldo de Guzman, 14.
The court also found the police officers violating RA No. 9165 for planting evidence back in 2017 at the height of the war on drugs of the Duterte administration.
It sentenced Perez and Arquilita to reclusion perpetua or up to 40 years in jail without parole and to pay PHP2 million each to the family of the victims for moral and exemplary damages.
While the case against them was being heard before the court, Arquilita died of suspected hepatitis B in 2019 while in jail.
Court records showed that the two cops were positively identified by a witness, Arnold Perlada, as having brought the two victims in a police car in the early morning of August 29 to a grassy area beside a street.
Perlada also said the cops shot the two teenage boys while they were handcuffed, and planted on Arnaiz's body drugs and a pistol as evidence.
Separate murder charges against the police officers had earlier been withdrawn by prosecutors.
Arnaiz was made to appear to have marijuana leaves and packets of shabu in his possession by the accused and suffered five gunshot wounds.
He was also made to appear to have pulled out a pistol to shoot it out with the police who were looking for the boys who allegedly robbed a taxi driver in the area.
Public forensic expert Erwin Erfe found de Guzman, whose body was found floating in a creek in Gapan, Nueva Ecija, to have suffered 28 stab wounds and injuries to his hands.
The two police officers had pleaded not guilty to the charges on Jan. 30, 2018.
The taxi driver, Tomas Marleo Bagcal, who earlier claimed it was the two boys who robbed him, later retracted his statement. (PNA)