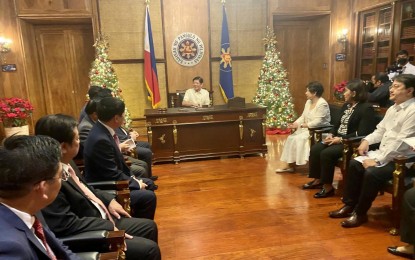 MANILA – President Ferdinand R. Marcos Jr. and National Assembly (NA) of Vietnam Chairman Vuong Dinh Hue on Wednesday agreed to enhance their countries' "excellent" bilateral relationship for the mutual benefit of their people.
Marcos and Vuong made this commitment in a meeting at Malacañan Palace on Wednesday.
Vuong is on a three-day official visit to the Philippines upon the invitation of Senate President Juan Miguel Zubiri.
This is the first official visit to the Philippines by an NA chairman after 16 years.
"I am looking forward to building upon excellent relationships between our two countries. And under your leadership, we will continue to work closely together and I am very confident under your leadership and with your experience, you will help contribute further to strengthen the bilateral relations between our two countries and also in helping elevate the role and position of the Philippines on the global stage," Vuong said in a press release.
The Vietnamese leader said his country will cooperate with the Philippines in the areas of "food security, climate change, defense and food supply."
He is also hopeful to enhance the relationship between their political parties and government-to-government and parliament-to-parliament relationships, and people-to-people exchanges.
Vuong also said he was "much impressed" about the commitments made by the Philippines during the ASEAN Inter-Parliamentary Assembly (AIPA) for expressing the "concerted efforts and coordination to address the climate change and to work together on transitioning towards the clean energy."
Marcos was represented by House Speaker Martin Romualdez during the AIPA event.
Meanwhile, Marcos admitted that he was "a little surprised" by how long it has been since an NA chairperson visited the Philippines.
He also said it was also "very fortunate" to have met his Vietnamese counterpart, President Nguyen Xuan Phuc, at the 29th Asia Pacific Economic Cooperation (APEC) Summit in Bangkok, Thailand last week.
"I was able to have a meeting with your President wherein we discussed many subjects that primarily (include) agriculture and the trade between our two countries, when it comes to the agricultural importation and in importing from Vietnam to the Philippines," he said.
Marcos said he was grateful to Nguyen's commitment to always include the Philippines as part among their trade partners, especially when it comes to rice.
The Philippines has remained the biggest importer of rice from Vietnam from January to September this year accounting over 40 percent of Vietnam's total rice shipments, according to the Vietnamese government.
He said he and Nguyen also discussed other global issues including defense and security and common interests between the Philippines and Vietnam.
Marcos earlier confirmed he would visit Vietnam upon Nguyen's invitation.
Business forum
Vuong also announced that Vietnam is organizing a forum on business and investment in the country to open new opportunities for Vietnamese businessmen wanting to invest in the Philippines.
"I want to report to you that tomorrow morning, we are organizing a very important forum on business and investment between our two countries, and I'm happy that Speaker Martin (Romualdez) also accepted my invitation to participate in the forum along with executives and business leaders from our countries," he said.
Marcos told Vuong that previous business and commercial tie-ups between Vietnamese and Filipino investors developed and strengthened relationships.

"So, it looks like those of us in government will have to catch up to the business community and strengthen and find new ways to coordinate, to help one another, especially as we come out of this pandemic economy and with the problems that we are feeling because of the conflict in Ukraine," he said. (PNA)