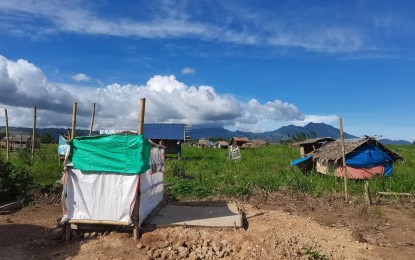 DUMAGUETE CITY – Authorities on Wednesday assured farmers and other individuals in Barangay Napacao, Siaton town in Negros Oriental they will find ways to resolve a land conflict while also reviewing some of their petitions for inclusion in the Comprehensive Agrarian Reform Program (CARP).
The assurance was made during a dialogue with Gov. Roel Degamo and officials from the Department of Environment and Natural Resources (DENR), Department of Agrarian Reform (DAR), Philippine Army, Philippine National Police, Commission on Human Rights, and other municipal and barangay representatives.
Manuel Galon Jr., Provincial Agrarian Reform Officer (PARPO) 1, said there is a pending case on the inclusion and exclusion of CARP beneficiaries in the said village.
In 2016, the DAR installed and gave Certificates of Land Ownership Award (CLOAs) to 72 beneficiaries of the Cabrera Enterprises land holdings that were covered by CARP, he said.
"There was a petition filed for inclusion by farm workers of Cabrera Enterprises and at the same time filing for exclusion of other beneficiaries that they alleged are not farm workers of the same employer," Galon said.
In the process, the DAR Adjudication Board (DARAB) in the province ruled that 54 were not qualified as they are not farm workers, while 18 were recommended at the time, he said.
The DARAB later said that only seven were qualified, but Galon said that during the dialogue that 18 were recognized.
"The decision has been elevated to the DARAB central (office) which reversed the local ruling due to questions over jurisdiction, thus the case was forwarded to the Court of Appeals," Galon said.
The appellate court remanded the decision which was then forwarded to the central DARAB, but to date, there is no word yet on the finality of the case, he added.
"Even with the pendency of the case, the landowners are willing to give a portion of the awarded land to the beneficiaries, as a result of our meeting last Monday," Galon said.
However, PARPO said it still has to determine whether all 18 will be included in the awarding of the land.
Meanwhile, Degamo and the other officials present also reassured the other "landless" informal settlers who are hoping for inclusion in the CARP coverage that they will do their best to assist them.
They also said, however, that "the law is the law" and in the event it would be determined they are not included, the government officials will find ways for them to own a piece of property in another area, such as a 500-hectare government land that the DENR said is available in Siaton.
Galon said this is a separate case involving some 337 families who are occupying a property in Napacao owned by a certain Andre Reyes, et. al., also a Cabrera Enterprises awardee, who filed an ejectment proceeding in court.
The informal settlers started occupying the land in question in March, erecting makeshift structures of bamboo and other indigenous materials.
"There is already a decision for their eviction, however, the judge said the implementation will not take effect immediately to give time for the informal settlers to vacate the property and find another place to stay," he said. (PNA)