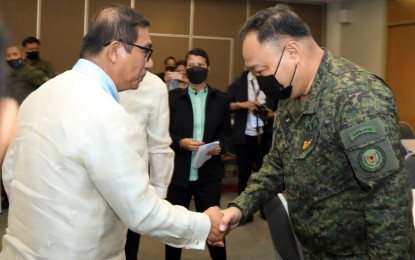 MANILA – The Philippine Army (PA), with the assistance of the Department of Science and Technology-Metals Industry Research and Development Center (DOST-MIRDC), would push for the development of a locally designed automated gun mount that will be installed in the service's armored vehicles.
The two agencies signed the deal for the measure at the World Trade Center in Pasay City on Wednesday, PA spokesperson Col. Xerxes Trinidad said in a statement Thursday.
"Commanding General, Philippine Army (CGPA) Lt. Gen. Romeo S. Brawner Jr. represented by Army Vice Commander Maj. Gen. Adonis R. Bajao and DOST-MIRDC Executive Director Robert O. Dizon signed the agreement for Project COBRA (Controller-Operated Battle Ready Armament)," he added.
Trinidad said the Mechatronics and Robotics Society of the Philippines, represented by its president Mariciel Teopangco was likewise recognized in the ceremony for the organization's commitment and support for the joint project.
The Project COBRA demonstrates DOST's commitment to helping soldiers effectively fulfill their mandate to serve the people and secure the land and bolster the Army's Self-Reliant Defense Program (SRDP).
DOST Secretary Renato Solidum said the project is envisioned to attain local production capability for war materiel and create a robust local defense sector.
"With the new design and integration of Project COBRA, we will acquire added strength in firepower capability, particularly for our armored assets. This endeavor also supports the local defense industry through the SRDP," Bajao said on Brawner's behalf. (PNA)