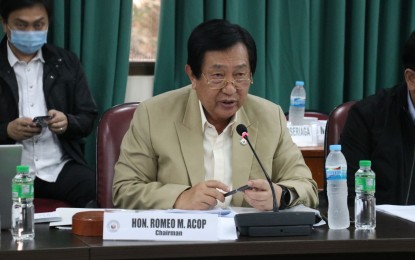 MANILA – The chairman of the House Committee on Transportation on Thursday emphasized the importance of a unified toll collection system to help ensure a seamless and more efficient travel for Filipinos.
During the committee hearing, Antipolo City Rep. Romeo Acop said having a unified electronic toll collection system provided more convenience to motorists using the expressways.
"The seamless interconnection between tollways allows for a more efficient and systematic operation," Acop said.
The panel deliberated on House Resolution 159, urging the Department of Transportation and its attached agencies to fast-track the Phase 2 and 3 of the Toll Interoperability Project, as well as House Bill 1966, mandating toll operators of all major expressways in Mega Manila to establish and use a standard and unified electronic toll collection system in the form of a radio frequency identification (RFID).
Cavite Rep. Adrian Advincula, author of HB 1966, said the expressways owned by different private companies have introduced their respective toll innovations with reloadable tags such as E-tap, Easy Drive and Auto Sweep, among others.
"Not everyone takes the opportunity to go cashless because of the inconvenience of having to reload different tags for various expressways," Advincula said.
Mandating toll operators to establish a unified electronic toll collection system in the form of RFID will save motorists from the trouble of buying separate reloadable tags for different expressways, he said.
Caloocan City Rep. Dean Asistio, author of House Resolution 159, said it has been five years since the signing of the Memorandum of Agreement for Toll Collection Interoperability for the project's implementation.
"Full implementation of the said project has been long overdue and further delay of its implementation is causing great inconvenience to the public," Asistio said in his resolution.
Transportation Undersecretary Mark Steven Pastor expressed full support for both measures but proposed to include additional provisions on: encouraging RFID registration, installing automatic license plate recognition technology to improve RFID reading capability and providing for nationwide enforceability.
Toll Regulatory Board (TRB) Public Utilities Regulation Officer Patrick Ojano reported that Phase 2, which would make Easytrip readable at Autosweep tollways, is set to be implemented in January 2023.
Meanwhile, the timetable for Phase 3 or the "One RFID Tag, One E-Wallet, One Account" has not yet been finalized.
TRB OIC Chief Finance and Administrative Officer Josephine Turbolencia said among the causes of delay was the long process of RFID testing. (PNA)