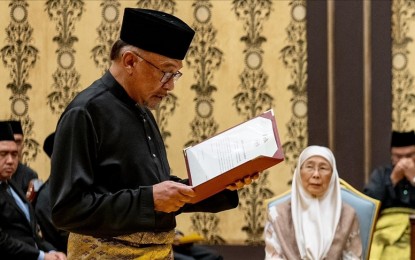 MANILA – President Ferdinand R. Marcos Jr. on Friday congratulated opposition leader Anwar Ibrahim on his appointment as the new Prime Minister of Malaysia.
In a statement, Marcos expressed hope that Anwar, whom he described as his "good friend", would bring political stability back to Malaysia through his leadership.
"I would like to congratulate my good friend Anwar Ibrahim on his election as Prime Minister of Malaysia. I look forward to the stability that his leadership will provide Malaysia and the region," the President said.
Former president Joseph Ejercito Estrada expressed elation over Anwar's appointment as the 10th Prime Minister of the Philippines' southeast Asian neighbor.
"I know all too well the long and difficult times you endured over the years before achieving this milestone in your career and I'm truly excited for the future of Malaysia under your capable leadership," Estrada said.
He informed Anwar that he is "happily retired from public life and enjoying being a spectator in the political world."
Estrada also told the Malaysian leader that his sons have continued his work in the Philippine Senate.
"It is my hope that my eldest son Jinggoy, who is serving in the Senate, will have access to your wise counsel should he need it," he said.
Anwar was sworn in as the country's new prime minister on Thursday, following days of deadlock after Saturday's general elections.
The decision came after a meeting of the nine-member Council of Rulers, led by King Al-Sultan Abdullah Ri'ayatuddin Al-Mustafa Billah Shah, in Kuala Lumpur. (PNA)