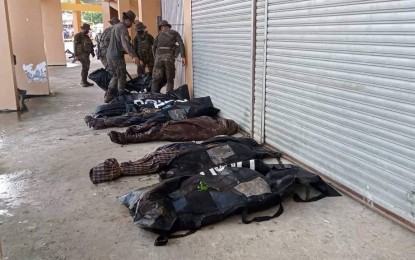 MANILA – National Security Adviser (NSA) Clarita Carlos on Friday condemned the Communist Party of the Philippines (CPP) and its armed wing, the New People's Army (NPA), for the brutal shooting of two soldiers in Sipalay City, Negros Occidental last Nov. 24.
"Despite our successful operations and other commendable milestones in promoting peace during these past few weeks in Visayas, it is still infuriating and saddening to hear these kinds of news," said Carlos, who is also vice chairperson of the National Task Force to End Local Communist Armed Conflict (NTF-ELCAC), in a statement.
She added that "these tragedies or atrocities will continue until the insurgency and terrorism problem is resolved with finality."
Authorities reported that Sgts. Regie Glendro and Ken Camilan of the 47th Infantry Battalion were shot dead by still unidentified NPA assailants on Thursday morning in Barangay Camindangan, Sipalay City.
Glendro and Camilan were hit in different parts of their bodies that resulted in their immediate deaths.
The ambush came four days after an alleged high-ranking NPA leader died in a gun battle with the military in Guihulngan City, Negros Oriental.
Prosecutor Flosemer Chris Gonzales, spokesperson of the Legal Cooperation Cluster of the Regional Task Force to End Local Armed Conflict in Western Visayas, has described the ambush as a "senseless, unjustified, and cowardly act" perpetrated by rebels.
"These killings are senseless, unjustified, and serve no purpose other than to affirm the fact that the CPP-NDF-NPA is a terrorist organization that has brought misery, suffering, and death to our people," he said.
Gonzales added that they condemn CPP-NDF-NPA and the acts of violence that they commit against this nation and against its people.
He also said the task force also honors the fallen soldiers who put their lives on the line to serve and to protect the nation's freedom.
Successful Northern Samar military ops hailed
On the other hand, NTF-ELCAC Secretariat Executive Director Emmanuel Salamat praised the success of the recent military operation in Northern Samar where six NPA members have been neutralized.
The state forces also seized 16 firearms and several personal belongings of slain rebels after the firefight in Las Navas town on Nov. 23.
"The unity among the AFP (Armed Forces of the Philippines) tri-service was quite impressive. But what's really monumental in this success was the cooperation of the people in the area. They really want to drive the rebels out of their communities," Salamat said.
Meanwhile, Capt. Ryan Layug, spokesperson of the AFP's Joint Task Force Storm, said the military had clashed with the group behind the recent attack in the adjacent town of Jipapad, Eastern Samar.
The attack killed two soldiers tasked to monitor the implementation of government projects in the area and wounded a 10-year-old civilian and two other soldiers, according to authorities.
It also left hundreds of bullets holes in at least 15 houses, barangay stage, communal toilet and the newly constructed barangay hall, the AFP said.
"Hindi naman pwedeng hayaan natin silang labas-pasok sa mga kumunidad. Nagrereklamo na ang mga tao sa pangongotong at pananakot ng mga ito (We cannot just allow them go in and out in the communities. People are already complaining of their extortion activities and their threats)," Joint Task Force Storm and 8th Infantry Division commander Maj. Gen. Camilo Ligayo said.
These threats are the reason why locals are appealing to the military not to leave their communities as doing so would open their villages to the NPA threat, Ligayo said, adding that local residents are even active in pinpointing to the military the location of NPA hideouts.
According to former rebels who surrendered to the AFP, the terrorist's hideouts are surrounded by prohibited anti-personnel mines to annihilate soldiers who will attempt to attack them.
"We have been calling on them (NPAs) to go home to their families, but these groups stand by their twisted ideology that has killed tens of thousands of Filipinos in their almost 54 years of existence. Paubos na sila sa buong bansa at malapit na ring magwakas ang terorismo nila dito sa Samar (Their numbers are dwindling fast nationwide, and their terrorism in Samar will also be soon over)," Ligayo said.
According to the NTF-ELCAC, there are five remaining active CPP-NPA guerrilla fronts in the country. Four of them are in Eastern Visayas, particularly in Northern Samar. (PNA)