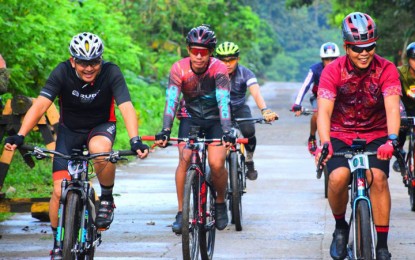 ZAMBOANGA CITY – About 1,131 participants are set to join Sunday's fundraising event dubbed "Run, Sulu, Run 2022", which will pass through the provinces' municipalities of Jolo, Patikul, and Indanan.
Aside from fundraising, the fun run will also highlight the relative peace Sulu is enjoying, and boost the province's eco-tourism potential by inviting tourists to visit.
Col. Alaric Avelino delos Santos, 11th Infantry Division (11ID) Civil-Military Office chief, said Saturday 1,100 soldiers and 31 civilians have registered for the event.
Delos Santos said the fun run would have four categories – 3 km., 5 km., 10 km., and 21 km. The participants were classified into two age brackets – 39 years old and below, and 40 years old and above.
He said 1,052 of the 1,131 registered participants are aged 39 and below while the remaining 79 are 40 years old and above.
The starting time is 6 a.m. for the 3-km. and 5-km. categories; 5:30 a.m. for the 10-km. category; and 5 a.m. for the 21 km. category.
"All the registered participants are advised to be at the starting point at 4 a.m.," delos Santos said, adding that all participants will get a blood pressure check before the start of the event.
Both the starting point and the finishing line are at the grandstand of the Provincial Capitol in Barangay Bangkal, Patikul, Sulu.
"The proceeds of the activity will be donated to five selected students from our Balik-Barangay Program and a portion of the proceeds will be used to enhance the training facilities of the Alakdan Division Training School," Maj. Gen. Ignatius Patrimonio, 11ID commander, said in a statement.
Capt. Desford Masirag, 11ID information officer, said the registration fees for each category are as follows: PHP700 for the 3-km. category; PHP800 for the 5-km. ; PHP1,000 for the 10-km. ; and PHP1,400 for the 21-km. categories.
Meanwhile, Sulu Governor Abdusakur Tan lauded the security force for initiating activities that help boost Sulu's growing eco-tourism industry.
"As partner of the military, I am committed to support the activity as a manifestation of our firm resolve to develop the growing eco-tourism potential in the province of Sulu," Tan said.
He said they envision conducting an international triathlon event in Sulu.
On November 20, a total of 182 bikers took part in the 30-km. fun bike event also initiated by the 11ID. (PNA)