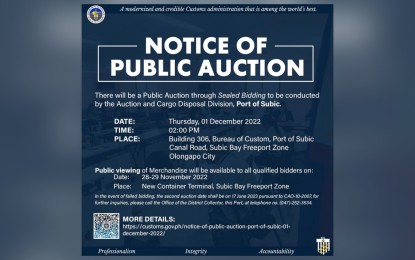 MANILA – The Bureau of Customs (BOC) - Port of Subic is set to sell through public auction 19 containers of refined and white sugar with a combined floor price of PHP35.39 million.
In a social media post, the bureau announced through a notice that the opening of the sealed bids will be conducted at Building 306, BOC-Port of Subic Canal Road, Subic Bay Freeport Zone (SBFZ), in the City of Olongapo at 2 p.m. on Dec. 1.
It said public viewing of the merchandise worth PHP35,399,700 will be available to all qualified bidders at the New Container Terminal, SBFZ on November 28-29.
The items that will be auctioned are "9X20" and "5X20" Cristalla Supreme Refined Sugar with a floor price of PHP16,592,800 and PHP9,224,600, respectively. They arrived in the country on Nov. 22, 2021 and Nov. 27, 2021, respectively.
The BOC noted that bidders must be sugar traders registered with the Sugar Regulatory Administration. They also have to pay a non-refundable amount of PHP5,050 as registration fee.
"In the event of failed bidding, the second auction date shall be on Dec. 2, 2022 pursuant to CAO-10-2007," it added.
For further inquiries, interested bidders may call the Office of the District Collector of the Port of Subic at (047)-252-3534. (PNA)