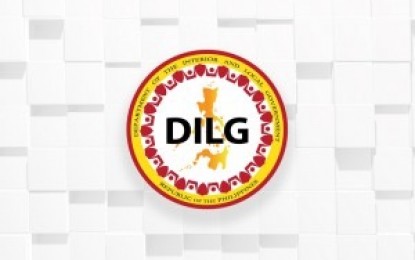 MANILA – The Department of the Interior and Local Government (DILG) on Saturday welcomed thousands who expressed their all-out support to the government's new antidrugs campaign dubbed as "Buhay Ingatan, Droga'y Ayawan" (BIDA) during its nationwide simultaneous grand launching.
The "BIDA" program launching took place at the Quezon Memorial Circle in Quezon City; Cebu Plaza Independencia, Cebu City; Xavier Ateneo Sports Centre, Cagayan de Oro City; and People's Park in Davao City.
DILG Secretary Benjamin C. Abalos Jr. said the BIDA program is a nationwide anti-illegal drugs advocacy involving local government units (LGUs), national government agencies (NGAs), and other key sectors of society that will focus more on drug demand reduction and rehabilitation in the communities coupled with arrests.
"Sa ating lahat, ang hamon ay ugatin natin ang problema ng droga. Dito sa BIDA, hindi lang kapulisan at iba pang law enforcement units ang kikilos, hanggang grassroots kasama natin dapat dito (For all of us, the challenge is to root out the drug problem. ([With] BIDA, it's not just the police and other law enforcement units that will act, we should be with the grassroots)," Abalos said.
He said the program aims for drug demand reduction and rehabilitation of drug dependents in the community, adding that the country's drug woes should be resolved at the grassroots level.
"Kung mayroon kang isang puno, gusto mong tanggalin ang sanga, putol ka nang putol ng sanga. Pero ang sanga, tubo nang tubo. Kung gusto mong tanggalin ang puno, ugatin mo, ugatin mo 'yung puno (If there is a tree, you cut the branches and you keep on cutting yet the branches keep on growing. If you want to cut the tree, get rid of its its roots, target the roots)," Abalos said.
"Ang problema ng droga ay parang yung puno (The problem on illegal drugs is similar to the tree)," he said.
Abalos said that various government anti-narcotics authorities have earnestly made arrests of drug personalities but more of their kind continue to prop up repeatedly.
"Kaya ang kailangan natin dito, hindi lang ang panghuli ng ating mga kapulisan, PDEA (Philippine Drug Enforcement Agency), NBI (National Bureau of Investigation). Tulungan ng buong bayan, ugatin natin ang problema (What is needed is not only the police, PDEA, NBI. The whole community should help the country, let us go to the root of the problem),'' he said.
The DILG chief pointed out that the BIDA program will work with the barangays, the church and religious communities, and the general public in addressing the country's illegal drug woes and rehabilitating illegal drug victims.
He said the Department of Social Welfare and Development (DSWD) and the Department of Health (DOH) will help in the rehabilitation programs.
He added that the Department of Trade and Industry (DTI) will also help provide livelihood programs, while the Department of Labor and Employment (DOLE) can assist in finding job opportunities, and the church leaders can give proper guidance.
With the youth being the target of illegal drug peddlers, Abalos urged the parents to guide their children by involving them in worthwhile activities like sports, culture and anything productive they are interested in.
He also urged the parents to give their children the fortitude and confidence to "say no to drugs" to save the children's and everyone's future.
For those who want to turn over a new leaf, Abalos assured the government is ready to help them through drug rehabilitation and other business and livelihood training programs to help them lead productive and drug-free lives.
"Ang problema ng droga ay problema ng buong mundo kahit ng mga first-world countries. Mahirap ito sugpuin pero walang imposible kung sama-sama tayo (The drug problem is a problem of the whole world, even of first-world countries. It's hard to suppress it but nothing is impossible if we work together)," he said.
For those involved in the illegal drugs trade, Abalos sent a strong message that they will be put behind bars.
"Sa mga nagtutulak, ipapakulong namin kayo. Ipapatupad namin ang batas at pupunuin ang mga kulungan ng mga katulad n'yo na sumisira sa kinabukasan ng mga kabataan at ng mga pamilya (To the pushers, we will put you in jail. We will enforce the law and fill the jails with people like you who destroy the future of our youth and families)," he said. (PNA)