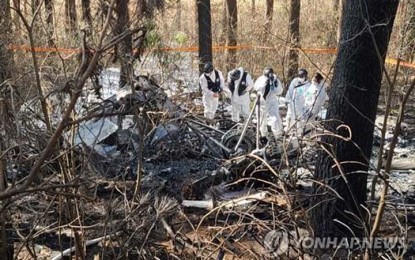 YANGYANG, South Korea – Five people were killed in a helicopter crash near a Buddhist temple in the eastern coastal county of Yangyang on Sunday, fire officials said.
Those killed included the 71-year-old pilot and a 54-year-old mechanic, who were initially believed to be the only two people on board.
Rescue workers later found three more bodies – one of a person in their 20s and two women –at the site of the accident. Surveillance camera footage confirmed there were five people on board the chopper.
Their identities were not immediately available as of press time.
The chopper, an S-58T on lease by the local governments of Yangyang, Sokcho and Goseong, crashed on a hill around 10:50 a.m. while surveying the area against forest fires, officials said.
The helicopter made by U.S. helicopter manufacturer Sikorsky was smashed into pieces and burst into flames, but the fire was put out after about an hour and did not spread.
The fire authorities immediately deployed 114 personnel to the scene with several pieces of equipment.
Prime Minister Han Duck-soo instructed the Korea Forest Service and the local authorities to properly handle the aftermath of the accident and do everything to assist the victims' families.
He also called for strengthening oversight of safety rules to prevent a recurrence of similar accidents. (Yonhap)