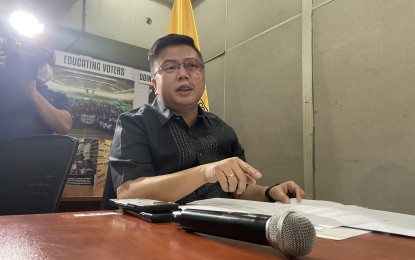 MANILA – The Commission on Elections (Comelec) has ordered Albay Governor Noel Rosal to vacate the position as the writ of execution has been served and took effect at 10:30 a.m. on Tuesday.
Comelec spokesperson John Rex Laudiangco said the Clerk of the Commission served the writ of execution to the parties of Rosal and petitioner Joseph San Juan Armogila while the Department of the Interior and Local Government (DILG) has been directed to implement the writ, issued by the Commission en banc.
"The Comelec has declared and ordered Gov. Rosal will vacate the position and the Albay office and the DILG will implement it," the poll body official added.
Laudiangco noted the order is immediately executory.
The order called for Rosal "to cease and desist from discharging the powers and functions of the Office of the Provincial Governor of Albay and to relinquish and vacate the same in favor of incumbent Vice Governor Edcel Greco Alexandre B. Lagman."
The highest-ranking member of the Sangguniang Panlalawigan will takeover Lagman's seat.
On the other hand, the Comelec spokesperson said Rosal can always seek relief from the Supreme Court.
"He can file a petition for review and certiorari, in the meantime, we will implement the Comelec's decision. According to Rule 64 of the Court he has 30 days to file for petition to review and certiorari from the receipt of our decision," Laudiangco said.
On Nov. 25, the Comelec issued a certificate of finality in the petition for disqualification against the Albay chief executive.
In a decision of the Comelec on Sept. 19, Rosal was found to have violated Section 261 of the Omnibus Election Code (OEC) on the 45-day spending ban in the May 9, 2022 elections.
On Nov. 18, Rosal's motion for reconsideration was dismissed by the poll body, which said no new evidence was presented on the case. (PNA)