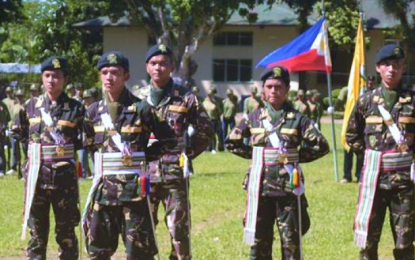 MANILA – Senators on Tuesday agreed to pursue reinstitutionalizing the Reserve Officers Training Corps (ROTC) in college, instead of proposals to include it in the senior high school (SHS) curriculum.
During the joint hearing of the Committees on Higher, Technical, and Vocational Education; National Defense and Security, Peace, Unification, and Reconciliation; and Finance, Senator Sherwin Gatchalian said the Department of Education (DepEd) must focus instead on addressing the impacts of the Covid-19 pandemic, particularly the decline in the proficiency of SHS students in English, Math, and Science.
Gatchalian, chair of the Committee on Basic Education, said he is alarmed over the DepEd data that 51 percent or about 1.4 million students who enrolled in 2020 dropped out before completing SHS in 2022.
"This is actually a much pressing problem to solve by DepEd and also by our country," Gatchalian said.
He said the ROTC must be reinstated at the college level because students are already being trained through the National Service Training Program (NSTP).
"Those who want to be trained in ROTC are already being trained. So, we just need to expand it. By expanding it, obviously we also need a budget to do that and those are the things that we can discuss here at the committee level," he said.
According to the Armed Forces of the Philippines, implementing an ROTC program in SHS would cost PHP9.2 billion.
Senator Ronald Dela Rosa, who presided over the hearing, agreed with a suggestion to amend the Reservist Act, making it mandatory to those unable to go to college.
"It's obvious that malaki pa ang kakailanganin ng project kapag doon natin i-implement sa Grades 11 and 12 dahil (the project will need a large amount if we implement it in Grades 11 and 12 because we will) start from scratch, from zero, walang ROTC program ang DepEd whereas ang CHED may ongoing na silang (DepEd has no ROTC program whereas CHED has an existing) ROTC program, albeit not mandatory, under NSTP," Dela Rosa said.
He reiterated the need to equip Filipinos with the necessary skills in protecting and preserving the country.
During the hearing, CHED and other government agencies presented a "consensus bill" which will institutionalize a two-year mandatory NSTP and four-year optional ROTC training for college students.
CHED Director Spocky Farolan said it would more or less capture the intent of the Marcos administration in reviving ROTC, which will focus on disaster management and civic duty.
The Senate committees have formed a Technical Working Group that will craft the the measure, which Dela Rosa expects to be passed by the first quarter of 2023.
The 2001 death of University of Santo Tomas cadet Mark Chua, who exposed alleged ROTC corruption, prompted Republic Act 9163 or the NSTP law, signed in 2002.
It allowed college students to choose among ROTC, Literacy Training Service, and Civil Welfare Training Service under the required NSTP. (PNA)