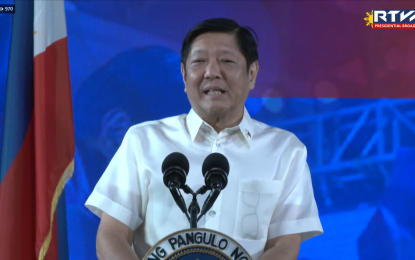 MANILA – Public confidence in the work performance of the current administration is "very encouraging," President Ferdinand R. Marcos Jr. said on Tuesday.
Marcos made the remark after 85 percent of 1,200 adult Filipinos believed the Philippines is headed in the "right" direction under his leadership, according to the 4th quarter 2022 Tugon ng Masa Survey conducted by OCTA Research on Oct. 23 to 27.
"It's of course very encouraging that people think that we are moving in the right direction," he said in a media interview on the sidelines of his visit to the International Rice Research Institute headquarters in Los Baños town, Laguna province.
The OCTA poll found that only six percent of the respondents disagreed that the country is headed in the right direction.
Visayas and Class D or the lower middle class registered the highest agreement that the country is on the right track under the Marcos administration, with 91 percent and 86 percent, respectively.
Eighty percent of respondents in Balance Luzon, 84 percent in Mindanao, and 70 percent in Metro Manila were also convinced that the country is moving in the right direction.
Around 81 percent of those under Class E or the "poorest of the poor," as well as 79 percent of Classes ABC or the upper middle class, also agreed that the Marcos government's policies and programs are leading the country in the right way.
Marcos said the survey results prove that majority of Filipinos are satisfied with the performance of his administration.
"Specifically, I have not been able to study it really, but nakita ko (I saw) it crosses demographics. The number is more or less the same across demographics," he said.
"So, that is important to me because every class of society must feel that they are being served by the government. With that kind of statistic, then it looks like we have at least that we have made the government felt at every level of society. That's what is important to me," he added.
Earlier Tuesday, Undersecretary Cheloy Garafil, officer-in-charge of the Office of the Press Secretary, said Marcos is committed to providing all Filipinos a "better" life. (PNA)