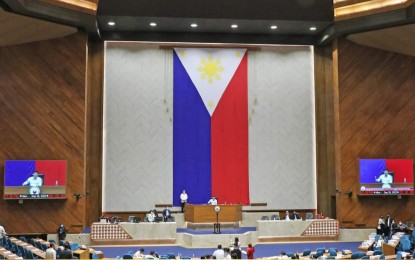 MANILA – The Philippines will soon have its own virology and vaccine research institute as the measure proposing its creation gained traction at the House of Representatives.
During Tuesday's plenary session, the chamber approved on second reading House Bill 6452, which seeks to establish the Virology and Vaccine Institute of the Philippines (VIP), which is a priority measure of President Ferdinand R. Marcos Jr. as mentioned in his first State of the Nation Address.
In his sponsorship speech, House Committee on Health Chairperson and Batanes Representative Ciriaco Gato Jr. said the bill is crucial in the nation's quest for health security as the proposed VIP would strengthen the country's capacity to address health emergencies.
Gato said the proposed institute will conduct in-depth studies on viruses and their potential disease-causing agents that affect people, plants and animals to provide the scientific bases for the treatment of viral diseases, and for the formulation of policies that shall prevent the transmission of these diseases.
The VIP shall be an attached agency of the Department of Science and Technology for purposes of policy and program coordination to ensure alignment in national policies and priorities.
The bill also mandates the VIP to implement policies, plans, programs and projects for the development of virology science and technology in the country and the promotion of scientific technological activities for both public and private sectors.
The VIP shall undertake scientific and technological research and development in the field of virology.
It shall also conduct product research and development in the areas of diagnostics, therapeutics, and vaccines in cooperation with the private sector and concerned agencies.
An information system on virology science and technology shall be developed and maintained for use by both the public and private sectors.
"Given the urgency of the VIP bill, this humble representation, as chairperson of the committee on health, together with the committee on science and technology, entreats the support of this August body to immediately approve the VIP bill, with the end view of attaining health security for the Filipino nation, which is essential in sustaining national growth and development," Gato said.
Speaker Martin Romualdez and Tingog Party-list Rep. Yedda Romualdez said the proposed establishment of the Philippine virology institute is a concrete step and strategic response to the coronavirus disease (Covid-19) pandemic, but also in ensuring the country's public health emergency preparedness and response.
"The Covid-19 pandemic phenomenon unequivocally demonstrated the rapidity with which new viruses and their variants can travel across the globe and inflict misery. There can be no further argument that our best hope, as that of humankind, for preventing and treatment of infectious diseases and viral infections in humans, as to plants and animals, come from vigorous research and stepping up development breakthroughs in the field of virology and application of advancement in technology for maximum gains in the campaign for sustainable public health response," they said. (PNA)