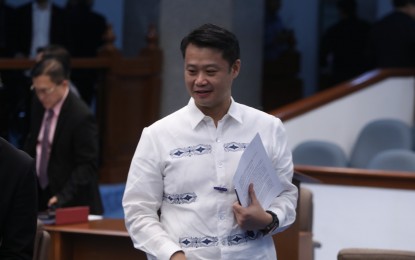 MANILA – Senator Sherwin Gatchalian wants to investigate the failure in implementation of Republic Act No. 10968, or the Philippine Qualifications Framework (PQF) Act, which aims to make Filipinos more competitive and employable.
In his proposed Senate Resolution No. 15 seeking an inquiry of the status of implementation of the PQC Act, Gatchalian said he wants to determine the reason behind why there is no significant success on the program and actions to achieve the goals of the PQF law.
Gatchalian cited a 2021 World Bank (WB) report showing that despite having a robust framework, the implementation of the PQF is weak with limited utilization and evidence of a labor market.
It added the annual unemployment rate in 2021 reached 7.8 percent or about 3.7 million unemployed Filipinos, and the annual underemployment rate was 15.9 percent or about 7 million underemployed Filipinos based on the Labor Force Survey.
Signed into law in January 2018, RA 10968 seeks to adopt national standards and levels of learning outcomes of education.
As it aims to address the mismatch in jobs and skills, the PQF evolved from the Philippine Technical and Vocational Qualifications Framework (PTVQ) and was designed in 2003 and adopted in 2012 to harmonize basic education, technical and vocational education and higher education into a nationwide unified framework of skills and competencies.
Meanwhile ,the United Nations Educational, Scientific and Cultural Organization Institute for Lifelong Learning, in its country report, said PFQs are meant to address the unemployment and underemployment rates of the Philippines which are largely the result of a mismatch between the jobs on offer and the skills possessed by the workforce.
Gatchalian said members of the PQF-National Coordinating Council (NCC), constituted to spearhead the law's implementation, are still not complete despite the WB recommendation to reinforce the core governance structure by completing the constitution of the PQF-NCC. (PNA)