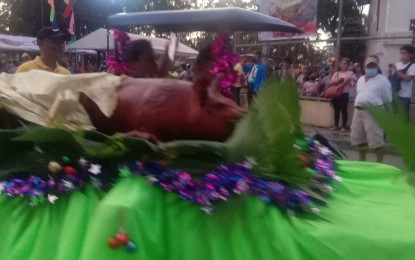 ILOILO CITY – The display of 36 lechon (roasted pork) from the 18 barangays of Leganes, Iloilo on Thursday evening marked the municipality's first "Porky Porky Festival", adding a flavorful color to the switching of Christmas lights to usher in the holiday season and serving as a recovery measure against the African swine fever (ASF).
The roasted pork was paraded around the town plaza at 5:30 p.m. and after less than an hour, it ended at the Mayor's Drive, followed by the switch-on of the plaza's Christmas lights.
Each barangay was provided with two tables to display their lechon.
"To regulate and to ensure that everyone could partake, the initial selling will only be half a kilo per customer at PHP125. We have no exclusivity, we have no reservations," Municipal Administrator David Sinay said.
He said they wanted it regulated to avoid the possibility of the food being taken out of the venue and from the municipality since they could not accept or sell their pork products outside of the town.
The holding of the "Porky, Porky Festival" is part of the municipality's recovery measure against ASF that has been recorded in its seven barangays.
The 36 swine, weighing about 35 kg. each, were purchased by the municipal government from hog raisers at PHP115 per kg. in live weight using the fund coming from the provincial government.
"The proceeds will go to the barangay. Later on, when it is already back to normal and they can grow swine, then the proceeds will be used to purchase piglets that will be provided to affected hog raisers. This will be on top of the assistance that will be provided to affected hog raisers," he said.
Their validation showed that 38 of the 479 hog raisers in the municipality were ASF-infected.
So far, the municipality has depopulated 196 infected hogs from the seven barangays.
"We continue to monitor barangays and continue to conduct blood sampling," Sinay added.
Aside from Leganes, the municipalities of Oton, San Miguel, Sta. Barbara, Alimodian, New Lucena, and Mina also recorded ASF cases. (PNA)