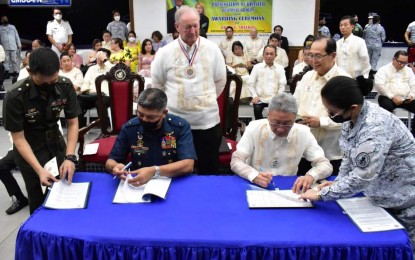 MANILA – The Armed Forces of the Philippines (AFP) and the Lions Club International Jurisdiction of Multi-District (MD) 301 Philippines signed a memorandum of understanding (MOU) on the conduct of disaster response training, on November 30.
In a statement Thursday night, Philippine Navy – Civil-Military Operations Group (PN-CMOG) public affairs chief, Lt. Commander Eduard Pablico, said the PN-CMOG facilitated the signing rites at the Bonifacio Naval Station Grandstand, Marine Barracks Rudiardo Brown in Taguig City.
Brig. Gen. Fermin M. Carangan, AFP assistant deputy chief of staff for CMO, represented AFP Chief of Staff, Lt. Gen. Bartolome Vicente Bacarro, and delivered his message.
On the other hand, the MD 301 was represented by its Council of Governors chairperson Frederick Lim.
"The MOU's objectives and provisions will be focused on the conduct of Disasters Response Training for the first responders to be conducted in the jurisdiction areas of District 301 Philippines, where there are Lion Districts in Luzon, Visayas, and Mindanao where there are camps and bases who will help to conduct and undertake Disasters Response Training," MD 301 district governor and retired Commodore Amado Sanglay said.
Bacarro, in his speech, said the MOU would reinforce the AFP's efforts in collaborating with stakeholders for socio-economic activity.
"Together, we will reach a realistic synergy of doing things for more impactful influence in the socio-civic activities that will touch the lives of many Filipinos, particularly in depressed areas affected by armed conflict," he added.
The AFP chief said the military and Lions Club International's efforts and acts of service in times of calamities and disasters have paved the way for the successful pursuit of this partnership.
"On behalf of the men and women of the AFP, my sincerest appreciation to the Lions Club International for this commendable partnership, which supports our common goal of nation-building," Bacarro said. (PNA)