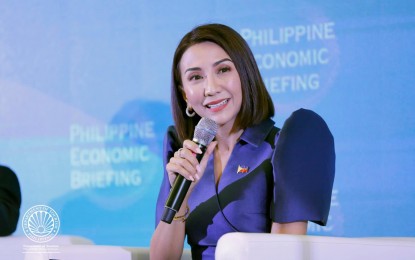 MANILA – Tourism Secretary Christina Frasco bannered the Filipino brand of service excellence at the recent 22nd World Travel and Tourism Council (WTTC) Global Summit: Travel for a Better Future in Saudi Arabia.
During the Global Leaders' Dialogue at the event held Nov. 28 to Dec. 1, Frasco said service excellence is one of the core pillars of the tourism industry in the Philippines.
"Wherever you may find yourself in the world, whether it's a hotel, a restaurant, a hospital, a home, and in many other industries, you will find a Filipino, with a warm smile and the distinct hospitality of the Filipino that is ready and willing to go the extra mile to make our guests feel happy, at home and well-served," she said.
Speaking before the summit participants, Frasco said the agency targets to train about 100,000 tourism workers in 2023.
"In addition to that, to continue to train our people to be purveyors of happiness and, more importantly, purveyors of hope. And to build upon all of that in the sense of community, in the sense of the Bayanihan spirit," she said.
In one of the panel discussions, Frasco also touted the DOT's sustainability plans and programs, including equalized tourism promotion and development, the Philippine Experience: A Heritage, Culture, and Arts Caravan, and the national accreditation standards revisions to include sustainable and green practices incentives.
"And therefore, it's a whole of government, and whole of country approach as far as implementing sustainable practices in our communities," she said.
The summit convened internationally renowned speakers, including former United Nations Secretary-General Ban Ki-moon and former British Prime Minister Lady Theresa May, actor and filmmaker Edward Norton to discuss the pressing issues affecting the post-pandemic travel and tourism sectors.
It also introduced the climate footprint of the global travel and tourism sector - Environmental & Social Research (ESR), a new global consumer survey by YouGov, and an augmented reality of the summit on Metaverse.
The Philippines successfully hosted the global summit's 21st edition in Manila this year from April 20–22. (PNA)