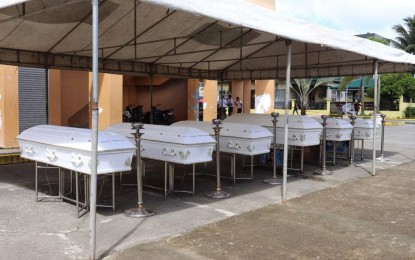 TACLOBAN CITY – The recent deaths of six top leaders of the New People's Army in Eastern Visayas have given justice to the victims of the communist group's treacherous attacks in the region, an official of the Philippine Army said on Monday.
Maj. Gen. Camilo Ligayo, commander of the Philippine Army's 8th Infantry Division, said the NPA leaders slain during the Nov. 23 clash in Imelda village in Las Navas, Northern Samar have been identified as behind several attacks that killed and hurt government troops and civilians.
"The death of these terrorist means justice to the people of Samar and Leyte they have terrorized for years. Remote communities in the region should have been developed long ago if not for the NPA's violent activities," Ligayo said in a statement.
These rebels were killed when government forces launched an attack destroying a major lair of NPA with 30 huts and a big cottage for meetings.
The military earlier said that among those who died during the clash was Helenita Pardales, the top leader holding the position of secretary of the NPA's Eastern Visayas Regional Party Committee (EVRPC).
"The leader defines the direction of EVRPC and sets recruitment quotas both for combatants from farmer's children and cadre from universities and colleges. She enforces the order of the central committee of the Communist Party of the Philippines and gives the go signal on tactical offensives within the region," Ligayo added.
Also killed was alias Orlan who heads the EVRPC regional operations command. He plans and supervises to ensure the successful implementation of a tactical offensive of all NPA units in the region.
Other casualties after the Nov. 23 fierce gun battle were members of the regional security force tasked to provide security to EVRPC's leadership led by Alias Mamoy; alias Caridad, finance officer; alias Joshua, team leader; and alias Boy, team member.
Ligayo said EVRPC can be best remembered through their attacks that killed and wounded soldiers and civilians.
On Aug. 10, 2018, they attacked the Lapinig Police Station in Northern Samar leaving two policemen wounded and carted away low and high-powered firearms.
A soldier was also killed during their attack in Palapag, Northern Samar last May 21, 2019.
On Oct. 7, 2022, two soldiers were killed and another two were wounded including a 10-year-old civilian.
They were also responsible for the series of ambushes on trails used by civilians using the banned anti-personnel mines (APMs).
On April 23, 2019, they used APMs to attack the community support program teams in Calbiga, Samar that killed six soldiers and injured six others.
A roadside blast on Dec. 13, 2019 killed a policeman and wounded 11 civilians in Borongan City, Eastern Samar.
The same group also detonated mines along the Marabut-Basey Road in Samar, killing a policeman and injuring two more on Dec. 10, 2020.
In Jipapad, Eastern Samar, there were a series of mine explosions that killed a soldier, two militiamen, and injured eight soldiers and six militiamen.
The attack in Dorillo village in Jipapad town last Oct. 7 killed two soldiers and wounded a 10-year old child and two soldiers. The attack also pierced hundreds of bullets hitting 15 houses and barangay facilities.
EVRPC also gave go signal to many more attacks in villages and government projects.
It burned several construction equipment on July 29, 2021, in San Francisco village, Las Navas town, Northern Samar delaying the construction of a road linking the province to Eastern Samar.
The Nov. 23 encounter not only left six NPA leaders dead, but also led to the recovery of 18 high-powered firearms, anti-personnel mines, grenades, laptops, cellphones, medicines, and notes. (PNA)