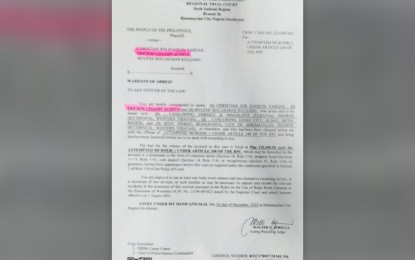 BACOLOD CITY – The late New People's Army (NPA) leader Ericson Acosta had been issued an arrest warrant by the Regional Trial Court (RTC) for his involvement in the series of encounters that injured several soldiers in Himamaylan City, Negros Occidental in October this year.
He was among the three accused, aside from comrades Christian Job Joaquin Vargas and Mylene Malasabas Delgado, listed in the order issued by RTC Branch 56 Acting Presiding Judge Walter Zorilla on Dec. 1, a day after he was killed during a clash with troops of the Philippine Army's 94th and 47th Infantry Battalions (IB) in the neighboring Kabankalan City.
Lt. Judesses Catalogo, public information officer of the Negros Occidental Police Provincial Office, said Monday that with Acosta's death, his criminal liability has been extinguished.
He noted that procedures are being followed in the filing of the case until it reaches the court, and it so happened that the warrant of arrest came out only after the NPA leader had already died.
Capt. Eduardo Rarugal, civil military operations officer of 94IB, who also confirmed that Acosta had an arrest order, said the late NPA leader was involved during the armed encounters in October in the hinterlands of Barangay Carabalan.
"He orchestrated the movements of the NPA in the entire Negros being the top leader of the Komiteng Rehiyon-Negros, Cebu, Bohol and Siquijor (KR-NCBS)," he added.
Six soldiers of the 94IB were wounded during the Carabalan encounters.
In the case of the two other accused, the military hoped that they would surrender rather suffer the same fate as their leader, Rarugal said.
"But while we are enticing them to surrender, we are conducting relentless operations. There's that dual effort. If they refuse to surrender, they might be hit during our operations like what happened to Acosta," he added.
The bodies of Acosta, 50, also known as " Ka Raffy", and Joseph Jimenez, 52, staff of KR-NCBS Regional Organizing Division, were found after their group engaged government troops in Sitio Makilo, Barangay Camansi, Kabankalan City early morning of Nov. 30.
Meanwhile, the Regional Task Force to End Local Communist Armed Conflict-Western Visayas (RTF-ELCAC 6) dismissed the claim of the National Democratic Front (NDF)-Negros that Acosta, whom they identified as a consultant, and his comrade did not just die in an encounter, but were murdered instead.
In a statement, Prosecutor Flosemer Chris Gonzales, spokesperson of legal Cooperation Cluster of RTF-ELCAC 6, said such is part of the hate narrative being propagated by the propaganda machinery of the Communist Party of the Philippines-NDF-NPA, which is designated as a terrorist organization in the Philippines and in several other countries.
"Romanticizing Ericson Acosta's death will not change the fact that he chose to take a path of violence when he took up arms against the state and against the Filipino people," he added. (PNA)