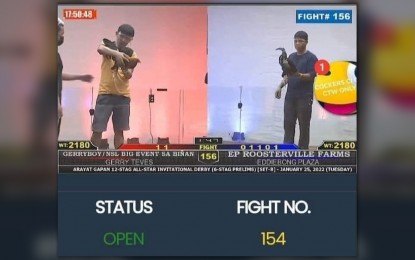 MANILA – Philippine National Police (PNP) chief Gen. Rodolfo Azurin Jr. on Monday ordered all police commanders to intensify the campaign against guerrilla operations of e-sabong (online cockfighting).
Azurin's order came following reports of illegal e-sabong sites that continue to operate despite an existing directive to put a stop to its operations.
"There was already a presidential order (former President Rodrigo Duterte) to stop all e-sabong activities. But we monitored that there were guerrilla operations of e-sabong until now," Azurin said in a presser at Camp Crame, Quezon City.
In May, Duterte ordered to stop all e-sabong operations after the reported disappearance of at least 34 cockfighting enthusiasts who all remain missing to date.
While the major operators of e-sabong stopped their operations, there were some small groups and individuals that continue to use the online platform for cockfighting betting.
The PNP chief said he has also received reports that guerrilla e-sabong operations have also been catering to overseas Filipino workers.
"So I directed all units, regional directors, the provincial directors and even the CIDG (Criminal Investigation and Detection Group) and IG (Intelligence Group) to work together to hunt down all these personalities involved in the operations," he added.
While the CIDG has filed cases against at least 15 personalities in connection with the missing sabungeros, most of the abduction cases remain unsolved.
"I took note of recent developments that unfolded in our continuing investigation of 34 persons who have been missing for over a year now. President Ferdinand R. Marcos Jr., no less, has expressed concern on these cases that he ordered the DOJ (Department of Justice), to get to the bottom of these disappearances of cockfight gamers," Azurin said.
He said the new pieces of evidence uncovered by CIDG have led to the filing of criminal charges against two suspects Julie Patidongan a.k.a Dondon and a John Doe, for the alleged kidnapping of a Bulacan-based gamer in Laguna.
"It is only a matter of time before we can eventually crack these cases and prosecute the main actors. I am making available the services and expertise of all PNP National Support Units to assist CIDG in succeeding investigations in support of parallel efforts of the Department of Justice," he said.
The CIDG filed the charges on Thursday before the National Prosecution Service of the DOJ.
The charges were based on the complaint of the kin of victim Michael Bautista of Barangay Poblacion 1, Daang Barrio Road, San Jose del Monte, Bulacan, who has been missing since April 28, 2021. (PNA)