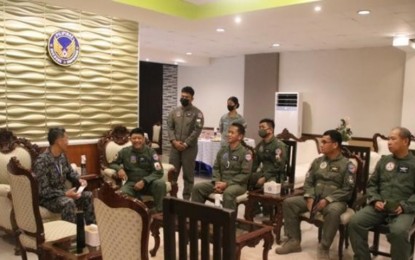 MANILA – The Philippine Air Force (PAF) is now conducting unit-to-unit activities with Japan Air Self-Defense Force (JASDF) in Clark Air Base, Pampanga which aims to enhance the bilateral ties between the two services.
Air Force spokesperson Col. Ma. Consuelo Castillo, in a statement Tuesday, said this interaction with the JASDF is part of their so-called "Fighters' Goodwill Visit to the Philippines" which took place on Monday.
"Maj. Gen. Matsuzaki Yuki, Commander of Southwestern Air Control and Warning Wing, JASDF, and Maj. Gen. Takahashi Hideo, Vice Commander of Western Air Defense Force, JASDF rendered a joint courtesy call on the commanders of major units based in Clark Air Base namely : Brig. Gen. Teofilo R. Bailon Jr. PAF, Commander, Air Logistics Command; Maj. Gen. Ramon Guiang PAF, Commander, Air Force Reserve Command; and Brig. Gen. Rocky J. Binag, PAF, Wing Commander, Tactical Operations Wing Northern Luzon. This happened at Clark Air Base, Mabalacat City, Pampanga," she added.
After their visit, Castillo said the two JASDF officials along with their PAF counterparts visited the unit-to-unit exchange activities that are currently ongoing.
"This includes subject matter exchange exercises on the following: aircraft maintenance, medical affairs, base defense (security), and field meteorology. They also visited the PAF's welfare facilities," she said.
She added the one-week exchange program is a capacity-building activity that aims to strengthen the PAF's bilateral ties with JASDF by further exploring mutually beneficial areas of cooperation.
"It will serve as an avenue for fruitful engagements between our Air Forces which include high-level meetings and subject matter experts exchanges on best practices and tactics, techniques and practices related to various fields such as but not limited to fighter operations and aircraft maintenance," Castillo said. (PNA)