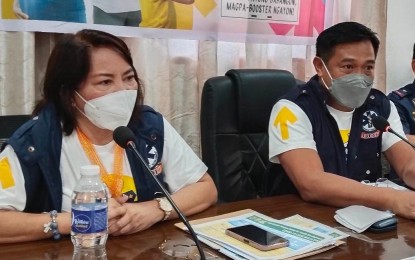 TACLOBAN CITY – Over 6 million vials of Covid-19 vaccines have been wasted in three Visayas provinces in the past two years largely due to natural calamities, storage, and handling, a top official of the Department Health (DOH) has said.
DOH Undersecretary Camilo Cascolan said some PHP3.58 billion worth of vaccines has been wasted in the Visayas.
"Wastage refers to wasted vaccines due to disasters, broken vials, discoloration, transportation, and wrong storage temperature. Remember that different brands have different storage temperature requirement," Cascolan told reporters during a press briefing at the Tacloban city police office here on Tuesday.
The official said the wasted vaccines were about 17 percent of the total allocation for the Visayas and still within the 25 to 30 percent acceptable threshold set by the World Health Organization.
He assured the return to supplier and replacement of wasted vaccines.
In Eastern Visayas, some 800,000 vials have been wasted, representing eight percent of total stocks, according to the DOH regional office here.
Most of the wasted vials in the region were caused by Typhoon Odette in Southern Leyte late last year.
Cascolan visited the city to lead the launch of Bakunahang Bayan for persons deprived of liberty at the city jail under the Bureau of Jail Management and Penology.
The second round of national vaccination days under the administration of President Ferdinand R. Marcos Jr. seeks to engage the different local government units and health centers nationwide to administer booster doses to eligible populations.
"We need to make the public aware on the need for protection against Covid-19 especially that there are many gatherings this coming Christmas season," Cascolan added.
The DOH is calling for a nationwide effort to facilitate the rapid mobilization of vaccination services among the eligible population.
In Eastern Visayas alone, the health department is eyeing to administer the first booster shots of Covid-19 vaccines to 50 percent of the eligible population aged 12 and above and to vaccinate the remaining five to 11 years old during the second round of the vaccination drive.
Since the launching of the first reiteration of the Bakunahang Bayan on July 26, 2022, Eastern Visayas administered 524,822 booster doses or 15 percent of the target population.
From the region's target of 735,631 children aged five to 11 for the primary series vaccination, a total of 275,167 or 37.4 percent of children have received their first dose, and a total of 227,055 or 30.9 percent got their second dose.
At least 2.86 million or 84.11 percent of the region's 3.4 million target population received their primary series of Covid-19 vaccine.
Through a presidential directive dated Oct. 25, 2022, the health department is committed to increasing Covid-19 vaccination coverage before the end of 2022. (PNA)