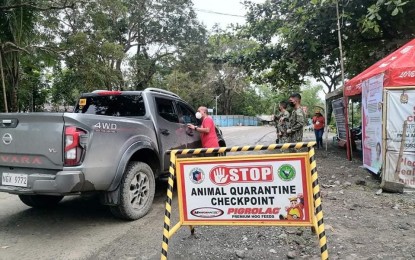 SAN JOSE DE BUENAVISTA, Antique – The province of Antique has intensified its monitoring against avian influenza or bird flu, particularly at the border checkpoints, that include controlling the entry of live birds which are possible disease carriers.
Antique Provincial Veterinary (ProVet) Office chief of Public Health Division, Dr. Marco Rafael Ardamil, in an interview Wednesday, said beefing up the watch at the checkpoints came following the reported bird flu index case in the province of Capiz on Dec. 2.
"Aside from checking on the pork and pork-based products being transported to Antique as preventive measure against the African swine fever (ASF), ProVet personnel at the border control points also check on the live birds and other avian species," Ardamil said.
Since Dec. 3, the border control checkpoints in Hamtic and Anini-y towns adjacent to Iloilo province as well as Libertad and Pandan towns at the border of Aklan province have controlled the entry of live birds, ducks, pigeons and other avian species, the ProVet official said.
Those transporting live birds, ducks, pigeons, and other avian species have to first secure a letter of acceptance from the Antique ProVet that the animals came from farms free of bird flu to be presented at the border control checkpoints to be allowed entry to the province.
Duck eggs, table eggs, day-old chick or ready-to-lay pullets being transported to Antique are mostly from farms in Luzon.

"Yesterday (Dec. 6, 2022), there was someone who was directed at the border control checkpoint to return the pigeons to its place of origin having no Letter of Acceptance from ProVet," Ardamil said.
Since poultries in Iloilo province are major sources of dressed chicken being sold in the markets in Antique, the traders are also instructed to secure the Meat Inspection Certificate (MIC) from the National Meat Inspection Service (NMIS) before they are transported to the province.
Poultry owners have been instructed to practice biosecurity measures in their farms such as wearing personal protective equipment and boots and stepping on footbaths with disinfectant before entering their poultries to ensure that they are not carriers of avian influenza.
Bird flu can be acquired through contact with migratory birds that are carriers.
Uncooked dressed chicken or avian species can also be sources of the disease, Ardamil said. (PNA)