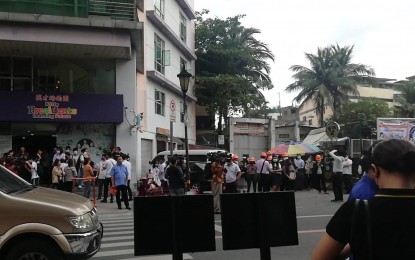 MANILA – The national government continues to carry out initiatives to protect public buildings against earthquakes in Metro Manila while strengthening emergency preparedness and response, an official said Wednesday.
Robert Borje, Climate Change Commission (CCC) vice chairperson and executive director, made this remark after a 5.3 magnitude earthquake rocked Camarines Norte and other parts of Luzon on Wednesday afternoon.
The quake struck 19 kilometers northeast of Tinaga Island, Vinzons, Camarines Norte at 1:05 pm according to the Philippine Institute of Volcanology and Seismology.
"The government is doing all that it can to be prepared for this type of earthquake and other disasters and I think the NDRRMC (National Disaster Risk Reduction and Management Council) is working very hard together with OCD (Office of Civil Defense) and the members of the NDRRMC to ensure that we are all prepared," Borje said in a chance interview with reporters.
He said several studies have found the need to "be more prepared", especially in the path of the West Valley Fault, a 100-kilometer fault that runs through six cities in Metro Manila and nearby provinces.
This fault line runs through Metro Manila to the cities of Marikina, Quezon City, Pasig, Makati, Taguig, and Muntinlupa and also traverses Doña Remedios Trinidad, Bulacan to Calamba, Laguna.
Borje said safety drills done to prepare for earthquakes may also be conducted for other "climate change"-induced disasters like flooding.
"Perhaps it's also appropriate to consider typhoon preparedness as part of the plan. Kung meron tayong (If we hold) national earthquake day or earthquake drill, siguro maganda may (perhaps it's good to have) similar activities for climate change-induced risks and hazards para preparado ang lahat sa anumang mangyayari (so everyone is prepared for whatever happens)," he added.
In 2018, former President Rodrigo Duterte issued Executive Order No. 52, creating the Program Management Office for Earthquake Resiliency of the greater Metro Manila area and tasked it to ensure that all government efforts in preparing for a huge quake are well coordinated.
The EO 52 defines the institutional roles and responsibilities of government agencies to strengthen the country's resilience to earthquakes, and to ensure public safety and government continuity.
It also mandates government agencies to take proactive steps to "guarantee the resilience of public infrastructure (e.g. roads, bridges, buildings, hospitals) in the Greater Metro Manila Area."
The government has been regularly holding earthquake drills in Metro Manila to prepare for the so-called "big one" or a worst-case scenario of an earthquake from the West Valley Fault. (PNA)

Parrocha)