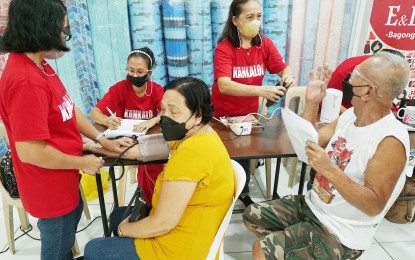 MANILA – The House of Representatives on Wednesday approved on second reading a measure providing for the Magna Carta of Barangay Health Workers to give due recognition to their invaluable services as front-liners in the delivery of healthcare at the grassroots level.
During the plenary session, the chamber passed through voice voting House Bill 6557, which seeks to provide allowances and other benefits as incentives to barangay health workers for their loyal service.
Accredited BHWs shall be entitled to incentives and benefits that include hazard allowance, transportation allowance, subsistence allowance, one-time retirement cash incentive, health benefits, insurance coverage and benefits, vacation and maternity leaves and cash gifts.
In his sponsorship speech, Valenzuela City Representative Rex Gatchalian said the bill aims to cure the "mistreatment" that all BHWs received as they risked their own personal safety and sacrificed their personal comfort to improve the health of the community.
"Our BHWs have been at the frontlines of healthcare since time immemorial...They have always done their role, but we have failed to do ours," Gatchalian said.
He said the bill aims to professionalize BHWs through continuous learning and skills enhancement, as well as protect them from discrimination and to prevent them from being used as political pawns.
"We hope that in this small way, we are taking a giant step in improving the conditions of our BHWs," he said.
Under the bill, a BHW shall be entitled to a monthly honoraria of not less than PHP3,000.

It shall also confer a first grade Civil Service Eligibility to an accredited BHW who has rendered at least five years of continuous service.
The Department of Health shall be mandated to provide continuing education and training programs for BHWs.
A grievance mechanism shall be established by the municipal, city or provincial government and the Department of the Interior and Local Government to address complaints regarding acts of discrimination and unjust removal of BHWs from the service. (PNA)