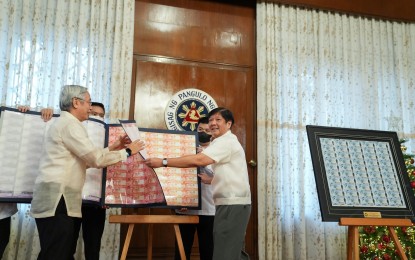 MANILA – President Ferdinand R. Marcos Jr. on Wednesday reiterated his vow to spend government funds on programs and projects that will improve the lives of Filipinos.
He made this promise during the Bangko Sentral ng Pilipinas' (BSP) presentation of banknotes bearing his signature and new coin series in a ceremony at Malacañan Palace.
"Be assured that it is the policy of this administration to ensure that every peso and every centavo that the government spends in its programs and projects will be to the benefit of all Filipinos," he said in his speech.
Marcos called on the BSP and other concerned agencies to intensify efforts against counterfeiting and other illegal activities, ensure price stability, enrich banking reforms and sharpen strategies to guarantee that public interest remains at the heart of the government's priorities.
He encouraged government agencies and the Filipino people to come up with sustainable and smart solutions that will uplift lives and lessen the burden on the people.
Marcos also renewed his pitch for unity to improve the safety and efficiency of the Philippine financial system.
He conveyed his full support to all of our BSP officials and their employees, saying he had complete confidence in their capability, competence and integrity.
Meanwhile, Marcos welcomed the issuance of the new polymer banknote which he described as "smarter, cleaner, stronger" amid safety concerns due to the ongoing Covid-19 pandemic.
He said the new banknotes also promote environmental sustainability and celebrate the country's rich natural and national heritage.
Marcos echoed calls to raise more awareness on the proper handling of polymer banknotes as the country transitions to using plastic money.
The plastic money features complex security features such as sampaguita clear window, serial numbers, shadow thread, vertical clear window, metallic features, blue iridescent figure, polymer substrate, tactile dots, embossed print, flying eagle and enhanced value panel.
The polymer banknotes are less susceptible to viral and bacterial transmission and can be sanitized with less risk of being damaged, according to the BSP.
They also have a smaller carbon footprint as their production requires less water, energy and other resources. It can also be recycled into other useful forms such as compost bins, building components, furniture and other household products.
The new banknotes last 2.5 to 5 times longer than paper banknotes given their resistance to water, oil, dirt and general wear-and-tear. (PNA)