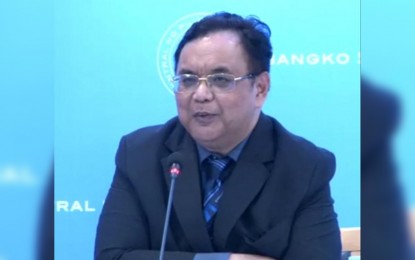 MANILA – The rate of the Bangko Sentral ng Pililipinas' (BSP) term deposit facility rose anew on Wednesday and appetite was for the shorter-dated tenor.
Data released by the central bank showed that the average rate of the seven-day facility rose to 5.9346 percent from 5.7514 percent during the auction last Nov. 29.
The average rate of the 14-day facility inched up to 6.0050 percent from last week's 5.8662 percent.
The BSP hiked the offer volume for the one week facility to PHP220 billion from last week's PHP180 billion.
This tenor was fully awarded after tenders reached PHP226.057 billion.
Volume offering for the two-week facility was also increased at PHP180 billion from PHP150 billion previously.
However, it was undersubscribed after bids only reached PHP166.534 billion.
The BSP awarded PHP166.334 billion.
Amidst the lower bids for the two-week facility, the central bank said total bids in this week's TDF auction "was well within the BSP's expected range of volume."
In a statement, BSP Deputy Governor Francisco Dakila Jr. said "yields accepted for both tenors likewise shifted higher."
"However, the seven-day tenor narrowed to a range of 5.7000-6.1250 percent, while the 14-day tenor widened to 5.7500-6.3500 percent," he said.
Dakila traced the rate upticks to "counterparties' preference for the shorter tenor following the release of the November CPI (consumer price index) data and with a policy decision expected from the BSP" on Dec.15.
The Philippine Statistics Authority (PSA) on Tuesday reported further acceleration of the domestic inflation rate, which rose to 8 percent last November, the highest since November 2008.
This development is expected to result in another hike in the central bank's key policy rates this month.
"Going forward, the BSP's monetary operations will remain guided by its assessment of the latest liquidity conditions and market developments," Dakila added. (PNA)