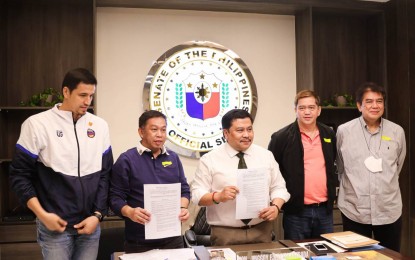 MANILA – One of the most successful teams in regional basketball is making its way to the Pilipinas Super League (PSL).
The league announced on Wednesday that the San Juan Knights are confirming their participation in the ongoing DUMPER Cup.
Team owner Jinggoy Estrada welcomed PSL president Rocky Chan, vice president Ray Alao, head of basketball operations Leo Isaac, and commissioner Marc Pingris at his Senate office in Pasay City the day before to formalize San Juan's entry to the league.
Aside from Estrada, coaching consultant Philip Cezar and team manager Jun Usman represented the Knights.
"I expect a better league. More people to watch and more exciting games," the senator said.
San Juan won two national championships, the Metropolitan Basketball Association title in 2000 and the Maharlika Pilipinas Basketball League (MPBL) in 2019.
The team's MPBL title came at the expense of Davao Occidental, the reigning PSL Pearl of the Orient Cup champion.
The Tigers would avenge their finals loss to the Knights in the 2021 MPBL titular series held at the Subic Bay Gymnasium in Olongapo, sparking a rivalry that was quickly cut off when the former joined the PSL.
With San Juan joining the PSL too, the rivalry has effectively been revived.
"Itong Davao and San Juan, may existing rivalry ang mga iyan (Davao and San Juan have an existing rivalry) even during our MPBL days," Estrada said. "We are looking forward na talagang magkaroon ng competitive na mga laban ang Davao and San Juan (that Davao and San Juan would really have competitive showdowns)."
The concern, however, according to Estrada, is rebuilding the team.
The senator implied that the Knights disbanded their team for the meantime after their MPBL campaign this season ended.
San Juan missed out on making the national finals after losing to Nueva Ecija in the North Division Finals, but San Juan takes pride in being the first team to give Nueva Ecija a loss this season, snapping a 25-game winning streak which stands as the longest single-season victory run in Philippine professional basketball. (PNA)