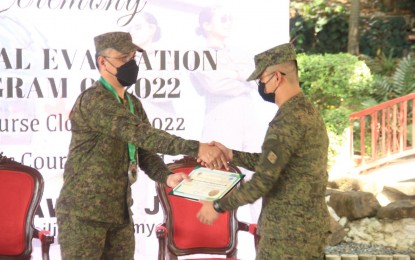 MANILA – The Philippine Army (PA) has concluded on Dec. 5 its first-ever aeromedical evacuation training program which is designed to save the lives of its combat casualties.
PA spokesperson Col. Xerxes Trinidad, in a statement on Thursday, said 17 students completed the training program which is divided into the Army Flight Medic Course and the Army Critical Care Flight Medic Course.
Training of the participants started early this January. Closing ceremonies were at the PA Officers' Clubhouse Pavilion, Fort Bonifacio, Taguig City.
"The two-tiered program, which is facilitated by the Office of the Army Chief Nurse and Office of the Amy Chief Surgeon in collaboration with the Army Aviation Regiment and the Philippine Emergency Medical Service Authority, enhanced the student's knowledge and skills in treating and increasing the survivability of combat-wounded soldiers," Trinidad said.
He added the program also helped upgrade the Aviation Regiment's aeromedical capability in light of the acquisition of new rotary wing assets that will be used in the transport of battle casualties.
"Through this course, we can proudly say that we already have the capability to rescue and take care of our combat casualties," PA Headquarters Support Group (HHSG) commander Brig. Gen. Moises Nayve Jr. said in a speech on behalf of Army chief Lt. Gen. Romeo Brawner Jr.
Aerial medical evacuation is the fastest way to transport a combat-wounded soldier from the point of injury to the nearest medical treatment facility.
"The course will capacitate Army surgeons, nurses and flight technicians in improving the chances of survival of combat-wounded soldiers," Army Chief Nurse Col. Maria Victoria Juan said. (PNA)