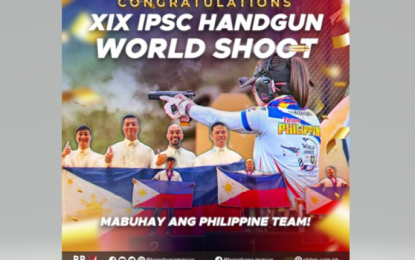 MANILA – President Ferdinand R. Marcos Jr. on Thursday lauded the Philippine team for their victories in the recently-concluded 19th International Practical Shooting Confederation (IPSC) Handgun World Championships in Thailand.
"We congratulate the Philippine team at the XIX International Practical Shooting Confederation Handgun Worldshoot for bringing pride to our country," Marcos said on his personal Facebook page.
Marcos, a gun enthusiast, earlier expressed full support to the Philippine delegation during its courtesy call at Malacañang Palace last Nov. 9 before joining the shooting competition.
"From one shooter to another, I commend all of you on your dedication to demonstrating the world-class talent of Filipino athletes," he added.
Team Philippines' Kahlil Adrian Viray, the only Filipino and Asian member of the prestigious CZ Shooting Team, captured three gold medals at the competition.
Viray successfully defended the Junior title and ruled the Individual Overall in the Standard division.
His third gold medal came from the team event with compatriots Rolly Nathaniel Tecson, Gerard Loy and Joseph Bernabe Jr.
Kahlil's 17-year-old twin brothers, Akeem Adrian and Kareem Adrian, finished third and fifth place, respectively, in the Standard Junior. The tournament was their first international competition.
Crystalene Gonzales, a Philippine women's team with a member from Bureau of Jail Management and Penology (BJMP), also placed second in the Lady's Category of the shooting event.
Gonzales, who is Jail Chief Inspector, together with Evelyn Woods, Rizza Vidallon and Maria Joahna Catalan captured the second spot behind Italy in the team production division lady category.
She pursued her passion for practical shooting after her Philippine National Police Academy (PNPA) graduation in 2009.
Other medalists from the Philippine Practical Shooting Association (PPSA) delegation were Jeufro Emil Lejano (Classic Overall), Jethro Dionisio (Classic Senior), Jerome Jovanne Morales (Production Optics Senior) and Aeron Jhon Lanuza (Production Junior), gold; Marly Martir (Classic Lady), Johann Abanilla (Production Optics Light Senior), Rolly Nathaniel Tecson (Standard Overall and Standard Junior) and Edcel John Gino (Open Overall), silver; and Alfredo Catalan Jr. (Classic Overall), Alex Lao (Classic Super Senior), James Quing (Classic Senior), Lydia Cuyong (Production Optics Light Lady), Aeron Jhon Lanuza (Production Overall), Robert Po (Standard Super Senior), Luisito Miguel de Guzman (Open Super Junior) and Jessica Tampoco (Open Lady), bronze.
In the team competition, the Philippines topped the Classic Overall (Jeufro Emil Lejano, Alfredo Catalan Jr., Lenard Lopez and Edrick Eliseo Chan) and the Standard Super Senior (Robert Po, Israelito Pible, Jose Maochi Suela and Isagani Buenaflor), and finished second in the Classic Senior (James Quing, Gilbert Go, Jesus Andres Soriano and Alex Lao), Production Overall (Aeron Jhon Lanuza, Paul Bryant Yu, Jon Gotamco and Willard Carrera), Production Lady (Evelyn Woods, Rizza Vidallon, Maria Joahna Catalan and Crystalene Gonzales) and Open Overall (Edcel John Gino, Nino Roberto Leviste, Keo Dayle Tuan and Enrico Papa).
It placed third in the Production Optics Light Overall (Paulo Paulino, Roy Harold Malunda, Johann Abanilla and Ronald Astillero), Production Senior (Anthony Sy, Amel Ariate and Rodolfo Cua Jr.) and Open Lady (Jessica Tampoco, Andrea Bernos, Erin Mattea Micor and Janice Navato).
A total of 1,345 shooters from 73 countries joined the 19th edition of the IPSC World Shoot which was held from Nov. 16 to Dec. 3 at the Thailand Practical Shooting Association (THPSA) range.
The IPSC is the world's largest shooting sport association and the biggest and oldest within the practical shooting. (PNA)