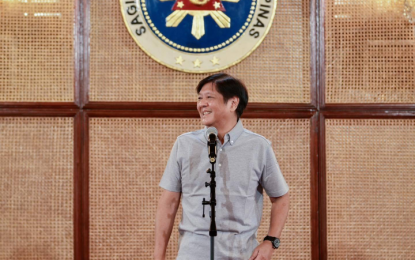 MANILA – President Ferdinand R. Marcos Jr. thanked media members for covering him and Malacañang for their dedication to delivering news to the public.
This, after he hosted a dinner for the members of the Malacañang Press Corps (MPC), Malacañang Cameramen Association (MCA) and Presidential Photojournalists Association (PPA) at Malacañan Palace on Saturday night.
"...This is [dinner is] our version for all of you who have been so supportive. I know you have been working very, very hard to get the news out so that people know what's going on, what we are doing here," Marcos said in his speech.
He encouraged members of the media to find enough time to enjoy the holidays with family and friends.
"Pagka ganito na holiday lalo na sa Pinoy, ang Pasko (During the holidays, especially for Pinoys), it's always important to take a step back a little bit, recharge and think again about what we are doing and that's what Christmas is to me," he added.
He also quipped about them already having "heard everything I have had to say."
Marcos, in several speeches, has repeatedly vowed that his administration will protect the independence, rights and security of all journalists and media workers in the country.
He also acknowledged the crucial role of the press in "improving access to information and increasing awareness on issues that affect our country and the world."
Earlier in the day, Marcos also met his supporters in a meet and greet event at Malacañan Palace.
"Maagang regalo ang hatid sa atin ngayong Pasko nang ating makasama muli ang ilan sa ating mga taga-suporta ngayong araw (Meeting some of my supporters today is an early gift this Christmas)," he said.
Marcos thanked them for their continued trust and confidence in him and expressed hope that with the help of people who backed his presidential bid, Filipinos will heed his call for unity.
In his last vlog, the President said his administration will continue working during the holiday season to spearhead initiatives that aim to improve the lives of Filipinos.
"Kahit sumampa na ang Christmas season at yung iba ay medyo vacation mode na, tayo ay patuloy pa rin ang lahat ng ating ginagawa para masigurong walang patid ang pagpaganda ng kalagayan ng ating mga kababayan (Even though the Christmas season has arrived and the rest of us are on vacation mode, we still continue to do everything we can to ensure the continuous improvement of the condition of our countrymen)," Marcos said in his last vlog uploaded on Dec. 4.
On Sunday night, Marcos is set to depart for a working visit to attend the Association of Southeast Asian (ASEAN) - European Union (EU) Commemorative Summit in Brussels, Belgium from Dec. 12 to 14.
Marcos is expected to carry the country's priorities and concerns, which include post-pandemic recovery, addressing disruption in the supply chain, maritime security, digital transformation and climate action.
He will also hold bilateral meetings with leaders from the Czech Republic, Belgium, Estonia, Spain, Denmark, Germany, Poland, Finland, the Netherlands and the EU on the sidelines.
Marcos will hold a business roundtable and "one-on-one meetings" with European corporations, including those planning to expand their presence in the Philippines, Foreign Affairs Assistant Secretary Daniel Espiritu said.
Among the companies are Unilever, which intends to invest PHP4.7 billion and establish a new state-of-the-art manufacturing facility and OCEA Shipbuilding, which looks to build a PHP1.5 billion shipyard in the Philippines.
He will also meet with representatives of infrastructure and renewable energy company ACCIONA and logistics hub management firm Simaris. (PNA)