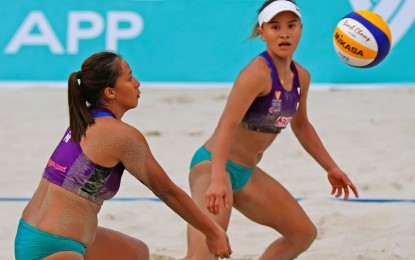 MANILA – Cherry Ann "Sisi" Rondina and Jovelyn Gonzaga defeated Genesa Jane "Jen" Eslapor and Floremel Rodriguez, 22-24, 21-12, 15-12, in the all-Filipino women's final at the Volleyball World Beach Pro Tour Futures in Subic, Zambales on Sunday.
Rondina had to endure leg cramps throughout the match, coming up with three straight points in the deciding third set to seal the victory before an enthusiastic crowd at the Subic Bay Sand Court.
Before that, the score was 10-12 when Eslapor, who took a five-minute medical timeout in the second set due to muscle cramps from the thighs to her abdomen, fired four consecutive aces.
"We were tired … after having gone through the competition, the pressure and the strong opposition," said the 26-year-old Rondina, who hails from Compostela town in Cebu province.
"I could hardly jump, even during our pre-final training," added Rondina, who won back-to-back bronze medal at the Southeast Asian Games with Bernadeth Pons, who is still recovering from a shoulder injury.
Gonzaga was tapped two weeks ago to replace Pons.
"Honestly, we never expected this one, all of us. Credit to them [Eslapor-Rodriguez pair], they are also good and strong," Gonzaga said.
The pairs of Espolar-Rodriguez and Rondina-Gonzaga trained with noted Brazilian Joao Luciano Kioday for 10 days before the tournament.
"It's all-Filipino so we went out there playing as if we were just training," Rodriguez said. "But yes, they gave us a good fight and we fought hard, too."
Philippine National Volleyball Federation (PNVF) president Ramon "Tats" Suzara was impressed with the country's 1-2 finish in a world volleyball competition.
"It's almost unbelievable. These pairs were formed not a long time ago, but they immediately showed cohesion and winning form on the court," Suzara said.
Suzara was named Secretary of the International Volleyball Federation (FIVB) Volleyball Empowerment Commission during the FIVB 38th World Congress in Arnhem, The Netherlands, last September.
"The result augurs well for Philippine volleyball and for sure, the PNVF national team program will push toward getting better in the international arena," he said.
Rondina and Gonzaga beat Israel's Yahli Ashush and Anita Dave, 20-22, 21-8, 17-15, while Eslapor and Rodriguez downed Japan's Miyu Sakamoto and Mayu Sawame, 16-21, 28-26, 15-13, in the semifinal round on Sunday morning.
Sakamoto and Sawame prevailed over the Israelis, 21-15, 21-18, to settle for the bronze medal.
Meanwhile, Tipjan Pithak and Taovato Poravid pulled off a 21-15, 21-19 victory over Kaewsai Dunwinit and Techakijvorak Intuch to pocket the gold medal in the all-Thai men's final.
Latvia's Martin Plavins and Mikhail Samoilov outplayed Thailand's Jongklang Surin and Nakprakhong Banlue, 21-19, 21-17, in the battle for the bronze. (PNA)