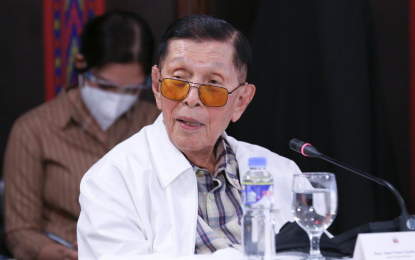 MANILA – Chief Presidential Legal Counsel Juan Ponce Enrile has urged President Ferdinand R. Marcos Jr. to "carefully" review a bill proposing the creation of a Maharlika Investment Fund (MIF), warning him that he may eventually be blamed should the fund be abused.
In an interview over SMNI over the weekend, Enrile said he was unsure of the direction of the proposed sovereign wealth fund and whether it would receive funding even after Marcos' six-year term.
"Kaya sabi ko sa ating Presidente, 'Mr. Presidente, pag-aralan nating mabuti 'yan' dahil (That's why I told the President, Mr. President, let's study it carefully because) that will be written during your time. Eh alam mo naman yung mga sumusunod sa'yo baka di naintindihan yung mga layunin niyan na magaganda at wawaldasin yung pera en kayo mananagot sapagkat kayo lalagda ng batas na 'yan' (Maybe your successor would not understand your good aspirations and squander the fund then you would be put to blame because you signed the law)," he said.
"If you don't mind, we'll have to discuss it and put all the safeguards nang sa ganun, hindi makapalag yung mga hawak niyan at pananagutan nila kung magkaroon ng maging problema (so in that way, those managing the fund while be held responsible if there is a problem)," he added.
Enrile clarified that he is not against the proposed MIF, but noted that he wanted to make sure that the creation of a sovereign wealth fund would not harm the President's reputation.
"I'm not against it, but I want to be sure that the President will not be historically damaged. That is my duty to him as his legal counsel," he said.
Instead of creating a MIF, Enrile said it is "safer" to use funds from the PHP5.268-trillion proposed national budget for 2023.
"Why not take it from the general fund and let it be a responsibility of the government and tighten the responsibility of the directors?" he said.
He said while he trusts Marcos' current Cabinet members, he doubted if he could give the same trust for Cabinet members of the next administrations.
Enrile said anyone involved in corrupt practices while managing the fund to "automatically" serve jail time at the New Bilibid Prison (NBP) in Muntinlupa City.
In the latest iteration of the proposed bill creating the MIF, its initial capitalization was cut by more than half to just PHP110 billion from PHP275 billion after the House leadership dropped the Social Security System, Government Service Insurance System and the national budget from its fund sources.
The President of the Philippines was also replaced by the Secretary of Finance as head of the MIF Corporation's governing board.
On Monday, the House Committee on Banks and Financial Intermediaries approved a provision on jail time for those who will violate the bill's stipulations.
It also approved reverting the name to MIF from the previous Maharlika Wealth Fund or MWF.
House Bill 6398, introduced on Nov. 28, seeks to establish a Philippine sovereign wealth fund patterned after the successful sovereign wealth funds all over the world.
It aims to ensure economic growth by generating consistent and stable investment returns with appropriate risk limits to preserve and enhance long-term value of the fund; obtaining the best absolute return and achievable financial gains on its investments; and satisfying the requirements of liquidity, safety/security and yield to ensure profitability of the government financial institutions' respective funds. (PNA)