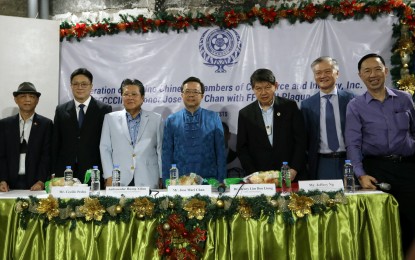 MANILA – The Federation of Filipino Chinese Chambers of Commerce and Industry, Inc. (FFCCCII) on Wednesday bestowed on music icon and top sugar businessman Jose Mari Chan the "FFCCCII Lifetime Achievement Award" during the "Pandesal Forum" in Quezon City.
The FFCCCII Lifetime Award for Chan was given in the form of a big plaque of honor and a special medallion.
Aside from singing several of his original compositions, Chan also thanked the FFCCCII for giving him the FFCCCII Lifetime Achievement Award.
Chan said that music is a gift from God and that he owes his wife and family for their support for his half-century music career.
He also paid tribute to his late father, the self-made sugar business leader Antonio Chan, who had migrated at age 13 from Fujian province in China to Iloilo.
He said that the secret to maintaining his singing voice is a healthy lifestyle of his daily exercise and without smoking.
He added that his love for singing is one way to stay young and that he has no plans to retire from singing.
The Barangay Kamuning Senior Citizens choir sang three Christmas songs for Chan, the "Father of Filipino Christmas Music."
The special guests during the forum were Chinese Ambassador to the Philippines Huang Xilian and Cebu City Mayor Mike Rama.
The FFCCCII is composed of president Henry Lim Bon Liong, vice-president Cecilio Pedro, vice-president and adviser of FFCCCII Public Information Committee Jeffrey Ng, and FFCCCII Public Information Committee Chairman Wilson Lee Flores.
Huang was accompanied by Chinese Embassy diplomats led by Counsellor Ji Lingpeng.
Also present were Association for Philippines China Understanding (APCU) executive vice-president Peter Laviña, FFCCCII Public Information Committee vice-chairmen Dr. Lily Lim, Wanzen David and Calixto Sy.
During the event, Lim also revealed that the FFCCCII had officially written a letter to the National Commission for Culture and the Arts (NCCA) to endorse and nominate Jose Mari Chan as National Artist due to his rich contributions to Philippine arts and culture.
For his part, Huang thanked Chan for performing in the June 9, 2022 Philippines China Friendship Day celebration hosted by the FFCCCII, for supporting better bilateral friendship and cooperation.
Huang said that he likes to sing Chan's holiday song "Christmas in our Hearts."
For his part, Rama said that he and the Cebuanos admire Chan.
He said that they support better relations between the Philippines and China.
He added that Cebu City has been sister-city of progressive Xiamen City in south China for 25 years already.
Rama invited Chan, Huang and the FFCCCII to visit Cebu during their annual Sinulog festival on Jan. 15 next year.
He also sang a song at the Pandesal Forum. (PNA)