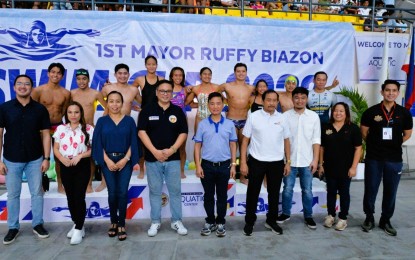 MANILA – The Mabalacat Flying Barracudas tallied 280 points to rule the Class A category of the 2022 Holiday Swim Cup at the new Olympic-sized indoor Muntinlupa Aquatics Center in Barangay Tunasan last Dec. 11.
Sharknado Swim Team placed second while Rey Panlaqui Swim Club and BFRV CL Giant finished third and fourth, respectively, in the tournament participated by 500 swimmers who were unable to compete during the 1st Mayor Ruffy Biazon Swim Cup last week.
Swim League Philippines (SLP) president Fred Atienza said Holiday Swim Cup was a fund-raising event that will benefit 10 coaches from clubs affiliated with the league needing assistance.
Meanwhile, Elite Swim Team bagged the Class B title over Sharknado Swim Club, Laguna Capitol Swimming Club and Tarlac Mako Sharks Swim Team. Tarlac Mako Sharks Team beat Elite Swim Team, SCT Swimming Ninjas and Laguna Capitol Swim Club in Class C, while Sharknado defeated Swim Team, Aqua Jardin Gliders Swim Team, Assumption Antipolo Swim Team and Mabalacat City Flying Barracudas to claim the Class D title.
Named Most Valuable Swimmer in their respective age groups were Shan Kervie Medina, Che Doronilla Jr., Gerald Esquivel, Francis Luke Ebcas, Alejandro Guiriba Jr., Caster Roy Carag and Fred Eimiel Febiar in the boy's division, and Trixie Ortiguera, Rhetz Andaya, Alarie Somuelo, Reign Margaret Magnate, Hazel Mae Tan, Stacey Liane Traje and Mikaela Ruth Crystal in the girl's division.
Laurence Tangcay, Van Andrei Piñon, Elijah Dowwen Fronda, Gerald Esquivel, Shan Kervie Medina, Che Doronilla Jr., Pia Gienne Gito, Isabell Ramirez, Rianne Avril Timbol, Alliyah Lei Obregon, Rhetz Andaya, Trixie Ortiguera and Alarie Somuelo received the Most Outstanding Swimmer (MOS) award in Class A of the tournament supported by Central Northern Luzon CAR Swimming Coaches Association and Solid Coaches Association of the Philippines.
Other MOS awardees were Joaquin Taylor Plazo, Achilles Ortiguera, Vilson Corpuz, Paolo James Tobosa, Caster Roy Carag, Ronniel David, Miesha Icban, Eliana Lauren Cedo, Antoinette Caleigh Garcia, Claire Briana Lim, Jaebelle Maczeene Montiero, Loraine Panganiban, Stacey Lianne Traje and Katherine Claire Gapuz in Class B; Louis Gabriel Petilo, Dylan Rylee Basas, Achilles Ortiguera, Niel Andrew Dacay, Kyle Oprecio, Lance Gabriel Lopez, Clarence Benedict Lim, Samantha Gabuni, Erice Ramona Cayabyab, Deana Marie Consular, Alyxandra Mae Baluyot, Alexa Nicole Policarpio, Reschka Bengat, Jianna Madridejos and Yshie Ortiguera in Class C; and Sebastian Agpalza, Jaydee Ezekiel Aloot, Ralph Justin Villarino, Zachary Tiu, Carl Jensen Mayonte, Khlyde Bryant Aniversario, Alexander Richard Everingham, Chance Edrick Miguel, Edrian Amos Correa, Sean Luis Tria, Evan James O'hara, Mark Perry Vila, Tomas Agonoy, Kyle Adrian Velez, Elaine Drixie Manahan, Gia Antoinette Matabang, Summer Bocobo, Psalm Destinee Moraga, Guillen Lourret Lim, Meg Agner, Thrixie Coronel, Maria Angela Eirine Tamoria, Khaye Brianne Aniversario, Sophia Pauline Aranas, Shanna Siolonga, Yesha Pano and Shylamie Almacin in Class D. (PNA)