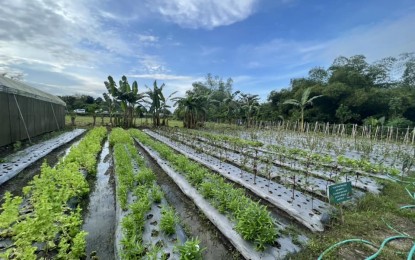 ILOILO CITY – Farm schools established by the Department of Education (DepEd) in its 21 divisions in Western Visayas have already caught the attention of a private entity that is committed to supporting the program.
DepEd 6 (Western Visayas) information officer Hernani Escullar Jr., in an interview on Thursday, said Antonio L. Tiu, the chief executive officer and president of the agricultural firm AgriNurture, Inc. (ANI), has expressed willingness to support farm schools, although they have yet to be briefed of the complete details.
Tiu expressed his interest in the program after attending the "Interfacing of Farm School Champions" held at the Tiu Cho Teg- Ana Ros Foundation Integrated Farm School in Iloilo City on Tuesday.
"The purpose was to share with our partner how the farm school work. Mr. Antonio Tiu is the first private entity who was willing to partner with our school," he said.
During the visit, Tiu brought with him vegetable seeds that were distributed to various farm schools in the region.
"He was happy with the farm school and is willing to help," Escullar added.
DepEd has 26 farm schools, situated in its 21 school divisions, exceeding what was mandated by Republic Act 10618 (Rural Farm Schools Act) to at least have a farm school per province with more than 3,000 enrollees in Grades 7 and 8.
Escullar said during the gathering, Tiu Cho Teg- Ana Ros Foundation Integrated Farm School Grade 7 learner Rico Hope Misare shared that he learned how nature is being valued and for it to become an instrument in making the world a better place to live.
Christine Gunay, a mother of a Grade 8 learner, said she was delighted because the farm school has helped her child to veer away from playing with gadgets.
"With the farm school, the priorities of the learner changed. Instead of gadgets, the learner has already focused on gardening and has become active in school," Escullar said.
He said DepEd-6 Director Ramir Uytico would like to stress that farm schools, as part of the K to 12 curriculum, emphasize agricultural productivity.
It also gives learners the capability to cultivate the small piece of land that they have and produce their food. (PNA)