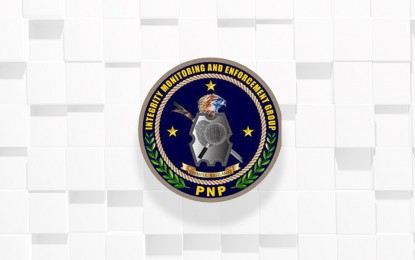 MANILA – Operatives of the Philippine National Police's (PNP) anti-scalawag unit have arrested two police officers in Makati City for extorting money from a resident whom they accused of involvement in the theft of automated teller machine (ATM) cards.
Citing a report from the Integrity Monitoring and Enforcement Group (IMEG), the PNP Public Information Office identified the police officers as Pat. Mark Dann Advincula, 32, and Pat. Mark Joseph Segador, 31, both assigned at Sub-Station 6, Makati City Police Station.
The report said joint elements of the IMEG, District Intelligence Division of the Southern Police District (SPD) and Poblacion Substation of Makati City Police Station conducted an entrapment operation at A. Mabini St. Poblacion, Makati City at around 4:30 a.m. Friday.
The complainants identified as Angelica Dacer and Dante Ruanto, both residents of Don Fabian, Quezon City, filed a complaint against Advincula, who was identified through his cellular phone number, which was also the number declared on his PNP personal data sheet, and two unidentified cohorts.
They both alleged that the suspects were extorting money from them.
Investigations showed that on Dec. 8, at about 8:25 p.m. Dacer met a foreigner and befriended her, to which they exchanged numbers.
The following day, she received a message from a different cellular number that invited her to Makati City Police Station where they alleged that there was a complaint by a foreigner about a missing ATM card and money worth PHP130,000.
When she decided to meet the texter somewhere in Makati City, she was accosted by the two police officers onboard a white vehicle with "Pulis" marking without an attached blinker and brought her to sub-station 6 in Makati CPS and confiscated her iPhone.
The two police officers also went to their house in Quezon City and confiscated Ruanto's iPhone and then they were taken to the Barangay Poblacion and was indicated that they should pay an amount of PHP50,000 in exchange for their two iPhones.
Reportedly, no criminal case was filed against Dacer and Ruanto.
The suspects yielded the PHP1,000 marked money used in the operation, 49 pieces of PHP1,000 bill, two PNP ID cards of the suspects, two motorcycle keys; a Canik pistol with serial number BG 26990; and another Canik pistol, BG 19990 with an inserted magazine.
The report said the arrested policemen and pieces of evidence were taken to the IMEG headquarters for documentation and filing of appropriate charges.
In a related development, the operatives of the Criminal Investigation and Detection Group (CIDG) arrested an employee of the Land Transportation Office (LTO) and two others in a police operation together with the LTO on Thursday in Quezon City.
In a separate statement on Friday, CIDG chief, Brig. Gen. Ronald Lee, identified the suspects as Alan Villalva Madrid, 59, LTO license evaluator, Decy Flores Tumazar and Renato Ocampo Jr., who were arrested in front of a food chain along Timog Avenue, Diliman, Quezon City.
The operation stemmed from the complaint of Chinese national Jian Feng Cheng who appeared before the CIDG office and lodged his complaint against the suspects for alleged fixing activities on the processing of his driver's license at the LTO main office.
Seized from the suspect were an LTO complaint sheet, a medical certificate dated Nov. 24, official receipt of the medical certificate fee, a student driver's permit and marked money.
Lee said that the trio was identified as members of LTO and Land Transportation Franchising and Regulatory Board (LTFRB) fixers involved in illegal activities within the vicinity and compounds of the LTO main office and LTFRB and adjacent streets.
Criminal complaints for violation of Republic Act (RA) 11032 (Ease of Doing Business and Efficient Government Service Delivery Act of 2018), RA 3019 (Anti-Graft and Corrupt Practices Act), RA 6713 (Code of Conduct and Ethical Standards for Public Officials and Employees), Article 210 (Direct Bribery), and Article 315 (Swindling/Estafa), both of the Revised Penal Code are readied against the suspects. (PNA)