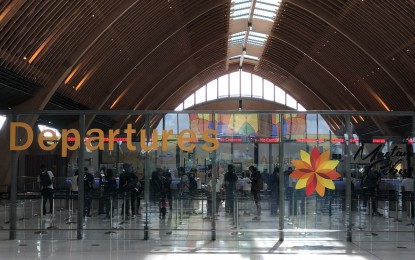 CEBU CITY – More "balikbayans" or vacationing Filipinos are coming home to Cebu from the United States this holiday season, with passenger traffic almost nearing the pre-pandemic level, a US-based travel consolidator said on Friday.
Peter Vazan, chief executive officer of Trevolution Group, said research on winter holiday season booking trends indicated that the number of travel reservations made between the United States and Cebu in December 2022 and January 2023 has so far reached 70 percent of the reservations made during the same period in 2019-2020.
"Each year, winter holiday season is the busiest time for visiting friends and relatives," Vazan said in a statement.
He said the changing booking patterns may mean more passengers will book their flights only weeks away from the holidays, but still won't reach the 2019 traffic levels.
"The first quarter of the year is traditionally the peak time for the Philippines tourism season, and the current outlook for the upcoming months is strong. Every third ticket from the United States to the Philippines is booked during the first three months of the year," he added.
Top US airports, from which passengers have booked flights to Cebu for the winter holiday period, are Los Angeles, New York, San Francisco, Chicago, and Seattle.
In an earlier interview with reporters, Mactan-Cebu International Airport Authority (MCIAA) general manager and chief executive officer Julius Neri Jr. said the airport is expecting the number of flights to grow by 40 percent of the pre-pandemic level by the end of 2022 from 28 percent in the previous months.
The country's second busiest air hub is gearing up for a busy holiday as new flights have been launched from Cebu.
"We are expecting more arrivals. All these will help increase the number of arrivals to Cebu," Neri said.
Official data from MCIAA showed that passenger traffic in the first three quarters of 2022 jumped by 386 percent to 3.68 million from 758,238 in the same period last year.
International passenger traffic rose 290 percent to 397,716 from 97,424, while domestic traffic also skyrocketed 400 percent to 3.30 million from 660,814 in the comparable period last year. (PNA)