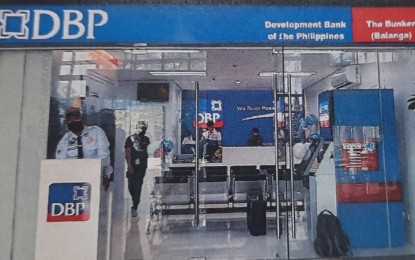 MANILA – State-owned Development Bank of the Philippines (DBP) has posted a net income of PHP5.35 billion in the first nine months of 2022, showing significant growth of 177 percent from the PHP1.93 billion recorded during the same period last year as the Bank intensified its lending activities to key sectors of the country.
DBP President and Chief Executive Officer Emmanuel G. Herbosa said the increase in the Bank's net income was driven mainly by the growth in its total loans to borrowers as well as the continued rise in net interest income.
"DBP's resurgent performance this year attests to its stability as a government financial institution and reflects the optimism in the country's economic prospects as we emerge from a downturn exacerbated by the pandemic," Herbosa said in a news release Friday.
DBP is the 8th largest bank in the country in terms of assets and provides credit support to four strategic sectors of the economy – infrastructure and logistics; micro, small and medium enterprises (MSMEs); the environment; and social services and community development.
Herbosa said the DBP's total loans to borrowers from January to September 2022 reached PHP504.8 billion, reflecting a 15 percent growth from the PHP439.30 billion recorded last year, on the back of accelerated lending boosted by the full reopening of the economy.
He said PHP270 billion or 53.49 percent of total loans were allocated for the infrastructure and logistics sector, with the bulk of the projects situated in the National Capital Region, Central Visayas, Central Luzon, Calabarzon, Eastern Visayas and Davao.
"DBP's support for social infrastructure and community development projects totaled PHP103.71 billion, representing 20.5 percent of its total loan portfolio," Herbosa said.
"The Bank also provided PHP54.35 billion in loans for environment-related projects, PHP48.24 billion for the agriculture sector, PHP30.30 billion for MSME sector and about PHP74.46 billion for projects in finance and insurance, manufacturing, wholesale and retail trade, accommodation and food services," he added.
DBP Executive Vice President for Operations Fe Susan Prado said the Bank's net income before provisions stood at PHP10.62 billion which was largely weighed down by provisions for credit losses at PHP4.25 billion and income taxes at PHP1.02 billion.
She said DBP's strong financial performance in the past quarter has enabled it to exceed its recalibrated 2022 net income target of PHP3.85 billion and solidify its position as one of the top performing banks in the country today.
"Beyond the numbers, DBP's financial standing mirrors the general trend for the Philippine economy in general, which is breaking the odds and have performed considerably well despite the challenges and adversities," Prado said. (PNA)