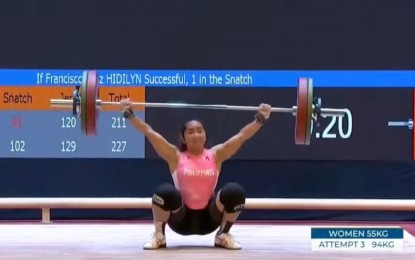 MANILA – Tokyo Olympics gold medalist Hidilyn Diaz was chosen as one of 10 members of the International Weightlifting Federation (IWF) Athletes Commission during the election held alongside the World Championships in Bogotá, Colombia.
The 31-year-old Diaz plucked three gold medals in the women's 55kg category during the competition held from December 5 to 16.
Also elected from among the 18 candidates were Maude Charron (Canada), Luisa Peters (Cook Islands), Marie Hanitra Roilya Ranaivosoa (Mauritius), Yasmin Zammit Stevens (Malta), Fares Ibrahim El-bakh (Qatar), David Liti (New Zealand), Forrester Osei (Ghana), Cyrille Tchachet II (United Kingdom), and Keydomar Giovanni Vallenilla Sanchez (Venezuela).
They will serve until the next Electoral Congress, which will take place after the 2024 Olympic Games in Paris, France.
According to the report posted on the IWF website on Saturday, the election was the first for the Athletes Commission, which shows the IWF's commitment to make sure that athletes' voices are heard in all decision-making.
The report said that following the election, "the IWF will set new standards for athlete representation by having three athletes on the IWF Executive Board and also having three athletes as full voting members of the IWF Congress."
"I would like to congratulate and express our thanks, both to the athletes elected and all those who put themselves forward in this process. It has been encouraging to see such strong engagement and commitment to shaping a new future for weightlifting from our athlete community. The IWF is proud to be setting a new standard for athlete representation in governance. As we look ahead, we see these elections as a crucial milestone in our journey of reform and towards ensuring a positive, sustainable and athlete-centered future for our sport," IWF President Mohammed Jalood was quoted in the report.
Charron was the 2020 London Olympics and 2022 Commonwealth Games champion in the women's 64kg category, Peters won the +75kg category at the 2015 Commonwealth Games, while Ranaivosoa bagged three gold medals at the African Games.
El-bakh ruled the men's 96kg category at the 2020 Tokyo Olympics and the 102kg category at the 2022 World Championships), Liti claimed the gold medal at the 2021 Commonwealth Championships (+100kg) and 2018 Commonwealth Games (+105kg), Osei got the gold medal at the 2016 Commonwealth Games (96kg), and Vallenilla Sanchez won the gold medal (89kg) at the 2022 World Championships and the bronze medal (96kg), also in Tokyo. (PNA)