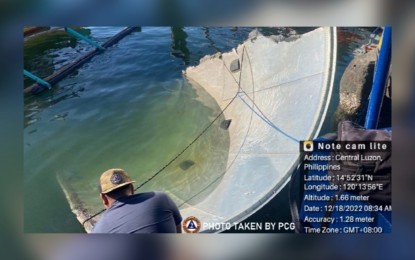 MANILA – The national government must assert anew the 2016 Hague ruling of the Permanent Court of Arbitration and declare China's expansive maritime claims devoid of merit, Senator Loren Legarda said on Monday.
Following a still-unnumbered Senate resolution that condemned the recurring violation into the country's exclusive economic zone (EEZ) and claimed territory in the South China Sea, Legarda said the effective implementation of the Hague ruling is a duty for the next generation of Filipinos.
The resolution filed Dec. 14 pointed out "bullying" by a Chinese vessel of the Philippine Navy in the West Philippine Sea (WPS) in November.
The arbitral ruling in 2016 affirmed the Philippines' territorial claims covered by its EEZ.
"How else can we help the Philippine Navy, the fisherfolk not just in Palawan [but] in all coastal areas, and every Filipino living today and in the future?" Legarda said in a news release.
Aside from setting up territorial defense in the WPS against harassment and incursions of Chinese vessels, the Philippines should also protect and preserve marine biodiversity.
Legarda said agencies like the Bureau of Fisheries and Aquatic Resources (BFAR) must intensify their presence in the Kalayaan Islands.
"We just passed the budget. There's no need for us to wait to amend the 2024 budget. Perhaps from their (BFAR) budget on fishing boats, they can allocate for Kalayaan," she said.
BFAR Director Eduardo Gongona previously said thousands of fisherfolk benefit from the WPS, especially those coming from the Ilocos Region, Central Luzon, Mimaropa and parts of the National Capital Region.
He said 324,312 metric tons of aquatic products were procured from the WPS in 2020, translating to 7 percent of total fisheries production that year.
In November, the Chinese Coast Guard (CCG) interfered in the retrieval of space debris that fell within the territorial sea near Pag-asa Island.
This was after Philippine personnel earlier detected the space debris within the country's territorial waters.
A retrieval operation took place but a CCG boat deliberately interfered and cut the towing line to forcibly take the space debris.
The Department of Foreign Affairs issued a note verbale to China in a continuous effort to assert the sovereignty of the Philippines over claimed territorial waters and has formally filed a diplomatic protest. (With a report from Leonel Abasola/PNA)