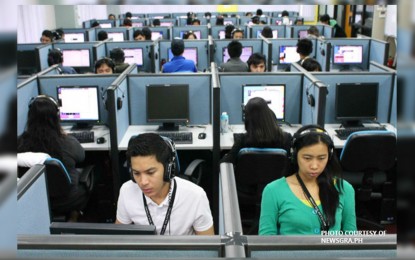 MANILA – A House leader on Wednesday appealed to the Department of Finance (DOF) and the Fiscal Incentives Review Board (FIRB) to extend the deadline for the transfer of registered business process outsourcing (BPO) firms to the Board of Investments (BOI) until Jan. 31, 2023.
House Ways and Means Committee chair Joey Salceda made the statement after the Philippine Economic Zone Authority (PEZA) reported that only 41 percent or 446 registered business entities were able to send their applications in time for the Dec. 16 deadline to transfer to the BOI.
Salceda said the shift from PEZA to the BOI would allow the BPOs to keep their tax incentives under the Corporate Recovery and Tax Incentives for Enterprises (CREATE) Act and retain work-from-home jobs.
"According to the PEZA, only about 41 percent of them made it to submitting their requirements on time. Some 640 firms have not yet submitted their requirements. That means, they have to stop work-from-home and return fully onsite, or they will lose their tax incentives," he said.
"PEZA also needs more time, because they have so far been able to process around 70 percent and endorse them to the BOI," he added.
He said companies only had around three months since the September issuance of the FIRB resolution allowing the registration transfer scheme.
He said protecting work-from-home jobs is important, since it helps in traffic reduction, as well as in equalizing opportunities between those living in the cities and those in rural or suburban areas.
"The work-from-home option is also a significant draw in for companies who may want to recruit from a more diverse talent pool. They can recruit from anywhere in the country. And recruitment in the BPO sector is tough. Retention costs are significant," he said.
He said the work-from-home option is also a cost-competitiveness measure.
"God knows we need that relief, given increased power costs and the many holidays that employers need to pay for," he said.
Salceda also asked the PEZA to expedite the remaining applications still bound for submission from the PEZA to the BOI.
"I am requesting the PEZA to complete submitting full applications to the BOI by the end of this month, if the deadline is not extended. It is vital that the companies that have completed their applications for transfer start 2023 on a solid footing of tax certainty," he said. (PNA)