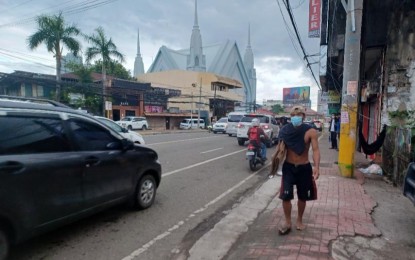 CEBU CITY – The Cebu City government will start issuing citation tickets to vagrants and street dwellers starting on Friday (Dec. 22, 2022) and encouraged individuals who want to give alms and food to street dwellers to course their donations through the proper office or charitable institutions.
Dr. Lucille Mercado, chair of the Cebu City Anti-Mendicancy Board, on Thursday announced during a press conference that a composite team will soon be out on the street to apprehend not only the "professional beggars" who make vagrancy a livelihood but also individuals who will get caught in the act of giving alms.
According to Mercado, the board received an order from Mayor Michael Rama to strengthen the city's anti-mendicancy campaign and implement "as soon as possible" City Ordinance 1631 passed in 1996 that prohibits open mendicancy.
She said the mayor is serious about implementing developments in the city similar to that of Singapore, including efforts to address the concerns involving street dwellers and vagrancy.
Mercado encouraged individuals or corporate organizations who want to help street dwellers to coordinate with the local nutrition council and social welfare office or some charitable institutions and the church.
Raquel Arce, head of the Cebu City Transportation Office and anti-mendicancy board member, admitted that the city government has never been serious in addressing the issue of open mendicancy, though there were several attempts in the previous administrations to implement the ordinance.
"For the last six months, we rescued several street dwellers, fed them, and advised them to go home to their town. But they would always go back to the streets and beg. For so many years that the city extended humanitarian assistance to them, I think it's high time to implement the law," Arce said.
Arce said the ordinance imposes a fine of PHP1,000 or four hours of community service to the violators.
Minors, she said, who will be rescued while begging on the street will be turned over to the social welfare office here.
"Although we cannot arrest minors as we can only rescue them but parents who allow their children to become mendicants can be charged and arrested," she said. (PNA)