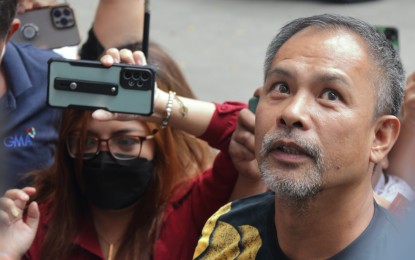 MANILA – Department of Justice (DOJ) Secretary Jesus Remulla on Thursday said the latest allegations about supposed corruption in the construction of structures inside the New Bilibid Prison in Muntinlupa are being investigated by the Bureau of Corrections (BuCor).
Speaking to newsmen, Remulla said he had been informed by acting BuCor chief Gregorio Catapang about readying appropriate charges, including possible plunder charges against suspended BuCor director general Gerald Bantag in connection with a project for four buildings worth PHP1 billion with up to 95 percent of the fundings already released despite that these have yet to be completed.
"He (Catapang) mentioned that to me and he knows the process how to investigate properly and document it. It's not my call anymore. But of course if he says there's really something wrong, he's the one who knows. He's the person to judge, not me," Remulla said on the special audit by the Commission on Audit (COA) of BuCor's financial books.
Catapang has expressed concern about how PHP950 million representing more than 95 percent of the project cost was already released by BuCor even as the project is not even 60-percent complete.
Meanwhile, defense lawyer Rocky Balisong said his client Bantag denied the alleged anomalies as well as reports that at least two prison gang leaders were personally assaulted by Bantag last February.
"I was talking about that yesterday with him and he said wala naman (nothing). We will just wait kung ano man ang reklamo na ipa-file (whatever complaint they will file) but he does not remember anything about stabbing inmates. Nakakatawa lang kasi kung totoo man, paano yung claim nya? (It seemes funny if true, how would this affect our claim?). How can he use these inmates kung sinaksak n'ya talaga (if indeed the inmates were stabbed), how can they use them against him? In short, he is denying participation in the stabbing," he said in a television interview.
On the possible plunder complaint, Balisong said they will await a complaint if any.
"We will wait for the complaint so we can answer in detail as we do not know anything aside from what has come out in (the) media so we will wait for the document itself," he added. (PNA)