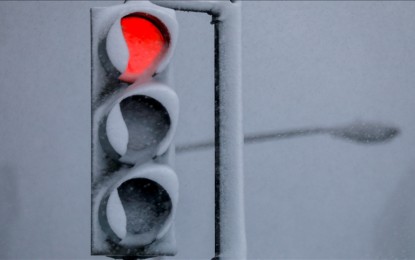 NEW YORK – Temperatures are plummeting Thursday across the US as an Arctic winter storm blankets parts of the country with the National Weather Service warning of "dangerous cold" and "life-threatening" conditions.
The weather agency said temperatures would drop between -40 to -70 degrees Fahrenheit (-40 to -56 degrees Celsius), with heavy snow and blizzard conditions expected to cause damage to infrastructure and disrupt travel.
Millions of Americans are under a winter weather alert as Christmas Day approaches.
"Wind chills of this magnitude can cause frostbite in less than five minutes if precautions are not taken, with hypothermia and death also possible from prolonged exposure to the cold," it said.
More than 4,000 flights have been canceled Thursday ahead of one of the busiest travel periods of the year for Christmas, according to flight tracking website FlightAware.
Authorities are also concerned about possible power outages from the storm. (Anadolu)